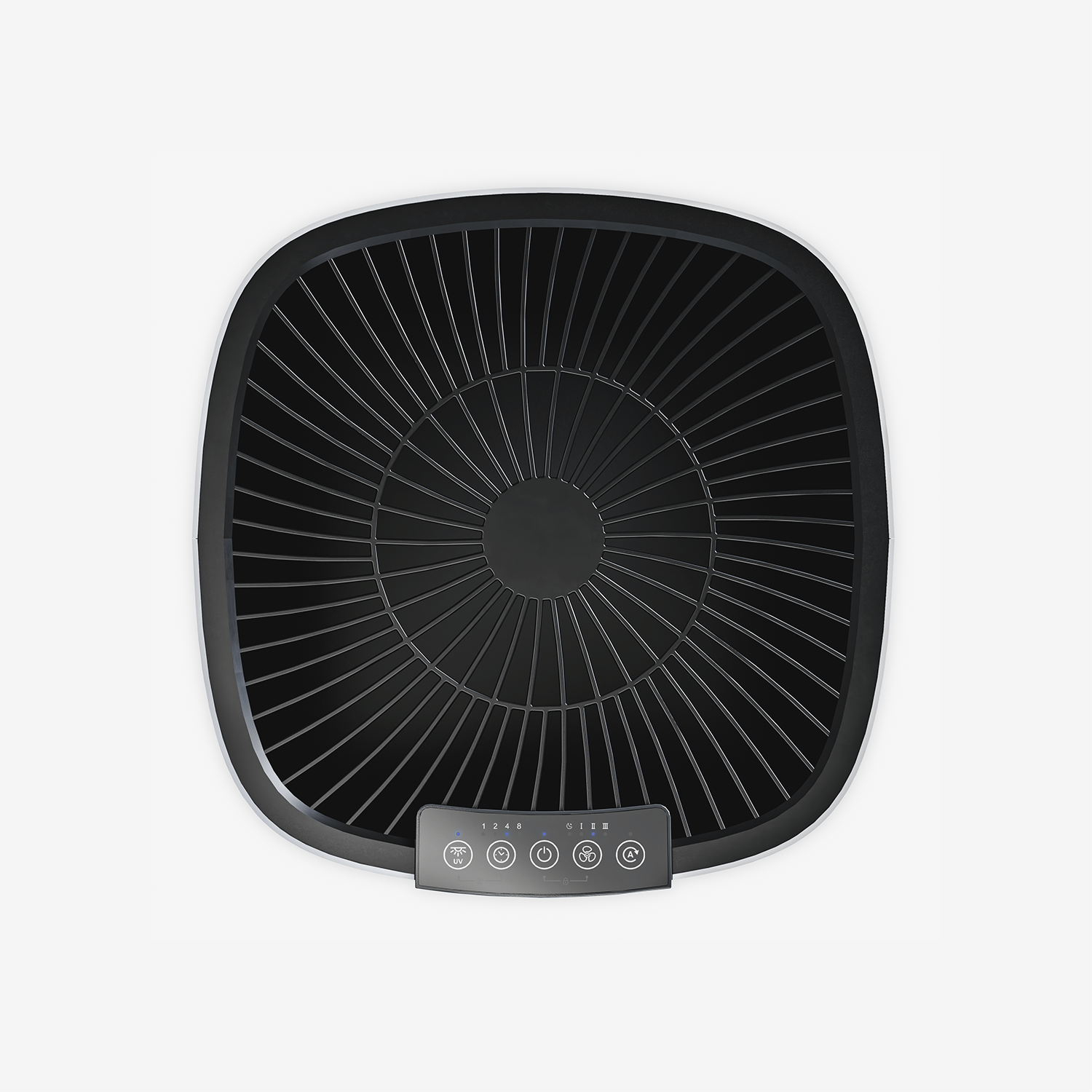 Ultra-Powerful Air Purifier with UV-Cleansing Light, Ioniser and 3 Layer Filtration System
Improve the air quality in your home or office with this Ultra-Powerful Air Purifier. It can capture up to 99.95% of dust and allergens and has a timer and sleep mode for whisper-quiet operation at night.
This Ultra-Powerful Air Purifier features a multi-layer air purification filter system designed to help improve air quality for allergy sufferers, those with sensitivity to airborne particles or simply for general air cleanliness. This ultra-powerful air purifier can capture up to 99.95% of dust and allergens with a Clean Air Delivery Rate of 460m³/h. Use the timer and sleep modes for whisper-quiet operation while the UV-Lamp and Negative Ioniser offer additional air purifying and cleansing.
Extra Large Coverage:

 

Pollen, pet hair, smoke, dust and airborne chemicals can be effectively minimised from large spaces up to 1500 sq. ft.
HEPA Air Purifier:

 

3-Layer filtration system consists of a fine preliminary filter which blocks all the larger debris in your environment, while the HEPA 13 filter and Activated Carbon Layer filter up to 99.95% of particles from the air.
Special Modes and Functions:

 

Timer mode lets you control how long your appliance runs, and Sleep mode lets you drift off while the air purifier works at reduced sound output to continue purifying the air as you sleep.
Smart Air Quality Sensor:

 

Can automatically test the air quality and whilst in auto mode, can adjust its settings to best clean your environment.
Optional Cleansing Modes:

 

The combination of UV Lamp and negative ioniser allows you four modes of air purification that you can switch between for customised purification. The optional ioniser releases negative ions to aid air purification and the UV lamp emits a cleansing light for a clean and fresh home.
Air Output Cadar

460 m³/h

Carbon Filter

Yes

Cold Catalyst Filter

No

Dimensions

260 x 263 x 527mm

Energy Consumption

50W

Filter

Yes

Hepa Filter

Yes (H13, 99.95%, 0.3 nm)

Maximum Room size

up to 1500 sq/ft

Negative Ion Generator

Yes (default ON when turning on the unit)

Noise Level

20.5 - <53.2 dBA

Power Cord Length

180 cm

Power Voltage

220V

Timer

Yes (4 settings)

Weight

5.15kg

Speed Settings

4 (3 plus Auto)

Filter Life

4 months/2000 hrs
Free Standard Delivery
All orders placed within Europe come with free Standard delivery. The delivery time will vary depending on the shipping location.
Please allow the following number of working days for your order to arrive.
Germany: 1-3 days
Belgium, France, Austria, The Netherlands, Spain, Italy, Poland: 3-5 days
Austria: 5-7 days
Portugal, Sweden, Czech Republic: 7-10 days
Returns
Orders can be returned within 30 days of the original purchase date, provided the order is unused and unopened. Please follow the steps here to return your order.
If you're concerned that your product is faulty, please contact our Customer Care Team here.
Dimensions

260 x 263 x 527mm

Weight

5.15kg

Power Voltage

220V

Air Output Cadar

460 m³/h

Hepa Filter

Yes (H13, 99.95%, 0.3 nm)

Carbon Filter

Yes

Cold Catalyst Filter

No

Negative Ion Generator

Yes (default ON when turning on the unit)

Speed Settings

4 (3 plus Auto)

Air Output Cadar

460 m³/h

Filter Life

4 months/2000 hrs

Maximum room size

up to 1500 sq/ft
Dimensions

325 x 170 x 540mm

Weight

4.9kg

Power Voltage

220V

Air Output Cadar

218 m³/h

Hepa Filter

Yes

Carbon Filter

Yes

Cold Catalyst Filter

Yes

Negative Ion Generator

Yes

Air Output Cadar

218 m³/h

Filter Life

5000 hrs

Maximum room size

430 sq/ft
Dimensions

260 x 263 x 527mm

Weight

5.15kg

Power Voltage

220V

Air Output Cadar

460 m³/h

Hepa Filter

Yes (H13, 99.95%, 0.3 nm)

Carbon Filter

Yes

Cold Catalyst Filter

No

Negative Ion Generator

Yes (default ON when turning on the unit)

Speed Settings

4 (3 plus Auto)

Air Output Cadar

460 m³/h

Filter Life

4 months/2000 hrs

Maximum room size

up to 1500 sq/ft