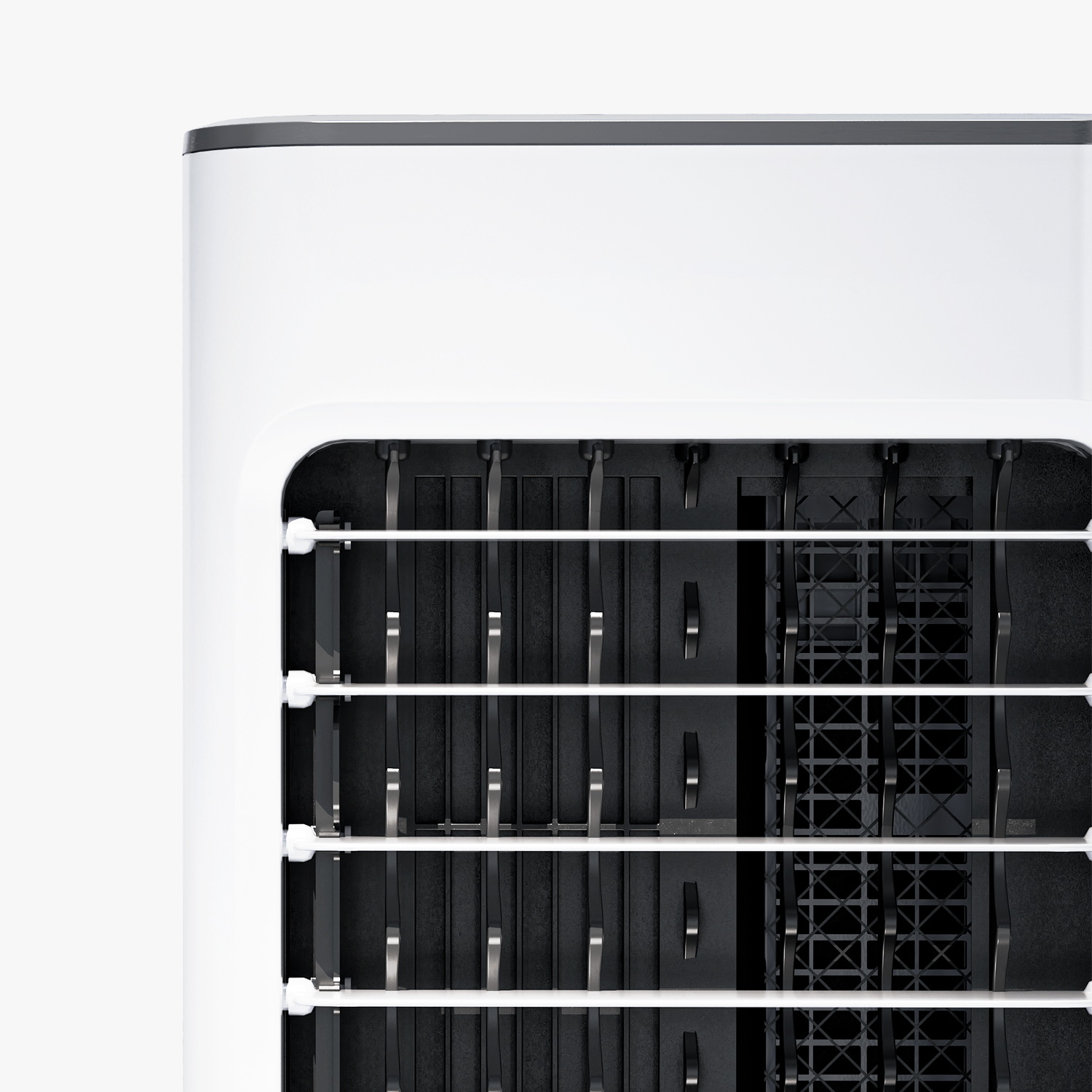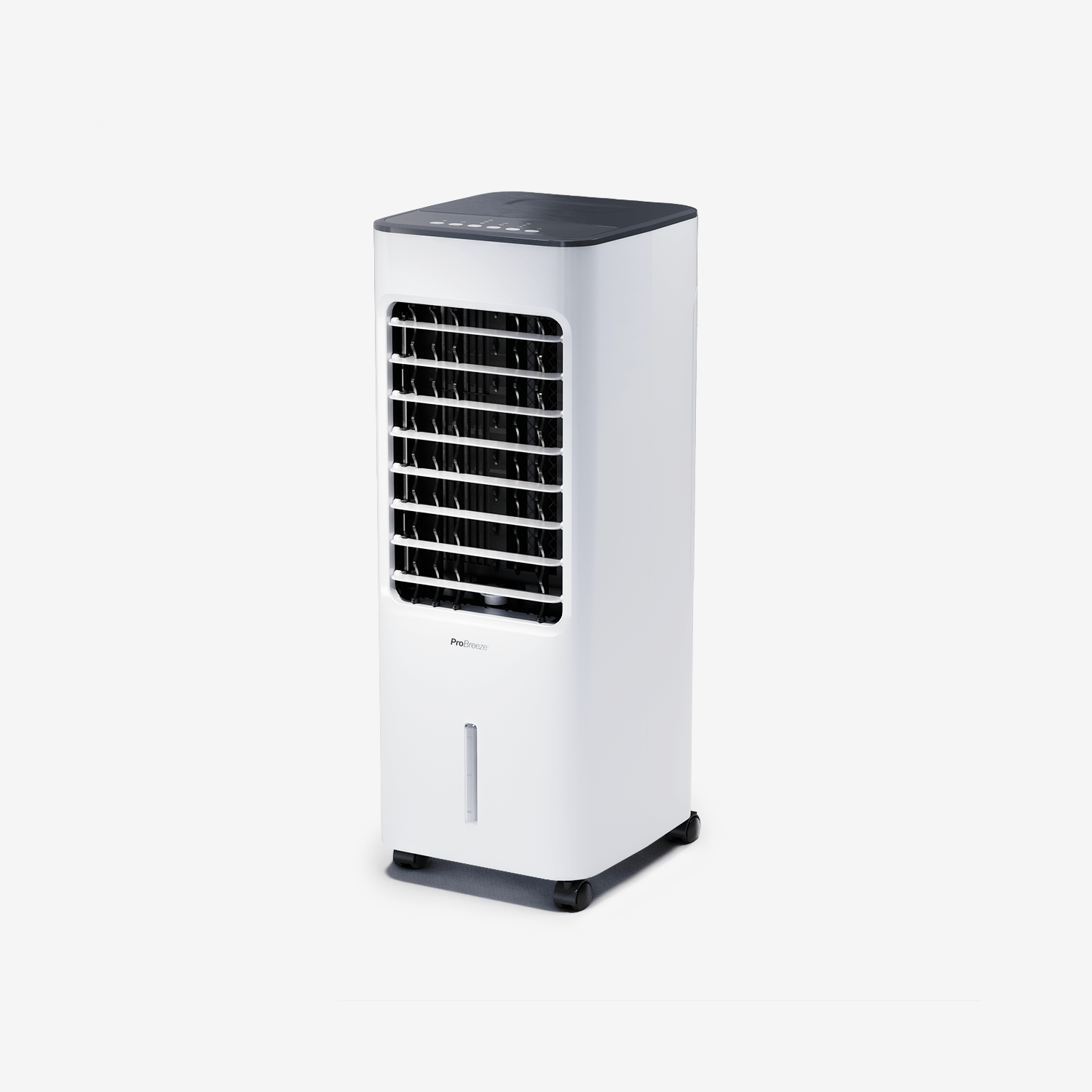 5L Portable Air Cooler with 4 Operating Modes, LED Display, Timer & Remote Control
Cool your personal space with the 5L Portable Air Cooler. The unit utilises an economical honeycomb waterfall system which sends warm air over cold water, being kinder to the environment while helping you to reduce your energy consumption.
This 5L Portable Air Cooler quickly and effectively cools rooms by using an industry-leading honeycomb waterfall cooling system that sends a soothing breeze cooled by ice-cold water vapour into your room. This cooling system is far more economical and environmentally sustainable than traditional air conditioner technology. Featuring 3 fan speeds and four versatile operational modes including cooling, fan only, natural and night modes to adapt to all your cooling requirements.
Advanced Cooling Technology: Industry-leading honeycomb cooling system that expels a powerful stream of cool air and water vapour, cooling your room far more efficiently and environmentally friendly than traditional air conditioners.
4-In-1 Features: This portable Evaporative Air Cooler features 4 multi-purpose operating modes including air cooling, fan only, natural and night modes.
Large Water Tank: 5L removable water tank can be filled with water and ice packs (x 2 included) to expel ice-cold air and moisture into your room, allowing the air cooler to also act as a humidifier.
LED Display, Remote Control & Timer: LED display and remote control provide full control of all operational modes as well as the 3 fan speeds. The built-in Timer provides 1 to 7-hour turn-on and turn-off functions.
Portable: Pre-assembled and fitted with 4 easy-roll castor wheels that allow the air cooler to be easily moved from room to room.
Dimensions

265 x 280 x 700mm

Energy Consumption

0.0080 kW.h

Filter

Yes

Noise Level

56-62 dBA

Oscillation

Left and right angle: 70 ± 10 °, Pitch angle: 100 ± 10 °

Power Cord Length

150 cm

Power Voltage

220-240V

Remote Control Battery Type

CR 2032 x 1

Tank Size and Evaporative Rate

Tank: 5 Litre Evaporative Rate: 0.8L/hour

Timer Range

1 - 7 hr

Timer

7 hr (On-timer and off-timer)

Type

Air Cooler

Ventilation Required

No

Water Tank Capacity

Max: 4.8L, Full: 5.6L

Weight

6kg

Fan Speed Settings

3

Airflow Rate

276 (m3/h)

Remote Control

Yes
Free Standard Delivery
All orders placed within Europe come with free Standard delivery. The delivery time will vary depending on the shipping location.
Please allow the following number of working days for your order to arrive.
Germany: 1-3 days
Belgium, France, Austria, The Netherlands, Spain, Italy, Poland: 3-5 days
Austria: 5-7 days
Portugal, Sweden, Czech Republic: 7-10 days
Returns
Orders can be returned within 30 days of the original purchase date, provided the order is unused and unopened. Please follow the steps here to return your order.
If you're concerned that your product is faulty, please contact our Customer Care Team here.
Dimensions

265 x 280 x 700mm

Weight

6kg

Type

Air Cooler

Power voltage

220-240V

Ventilation required

No

Airflow rate

276 (m3/h)

Tank size and evaporative rate

Tank: 5 Litre Evaporative Rate: 0.8L/hour
Dimensions

380 x 330 x 750mm

Weight

8kg

Type

Air Cooler

Power voltage

220-240V

Ventilation required

No

Airflow rate

408 (m3/h)

Tank size and evaporative rate

Tank: 10 Litre Evaporative Rate: 1.1L/hour
Dimensions

345 x 270 x 1050mm

Weight

10.5kg

Type

7L Air Cooler

Power voltage

220-240V

Ventilation required

No

Airflow rate

500(m3/h)

Tank size and evaporative rate

Tank: 7 Litre Evaporative Rate: 0.8L/hour
Dimensions

265 x 280 x 700mm

Weight

6kg

Type

Air Cooler

Power voltage

220-240V

Ventilation required

No

Airflow rate

276 (m3/h)

Tank size and evaporative rate

Tank: 5 Litre Evaporative Rate: 0.8L/hour
Dimensions

380 x 330 x 750mm

Weight

8kg

Type

Air Cooler

Power voltage

220-240V

Ventilation required

No

Airflow rate

408 (m3/h)

Tank size and evaporative rate

Tank: 10 Litre Evaporative Rate: 1.1L/hour
Dimensions

345 x 270 x 1050mm

Weight

10.5kg

Type

7L Air Cooler

Power voltage

220-240V

Ventilation required

No

Airflow rate

500(m3/h)

Tank size and evaporative rate

Tank: 7 Litre Evaporative Rate: 0.8L/hour