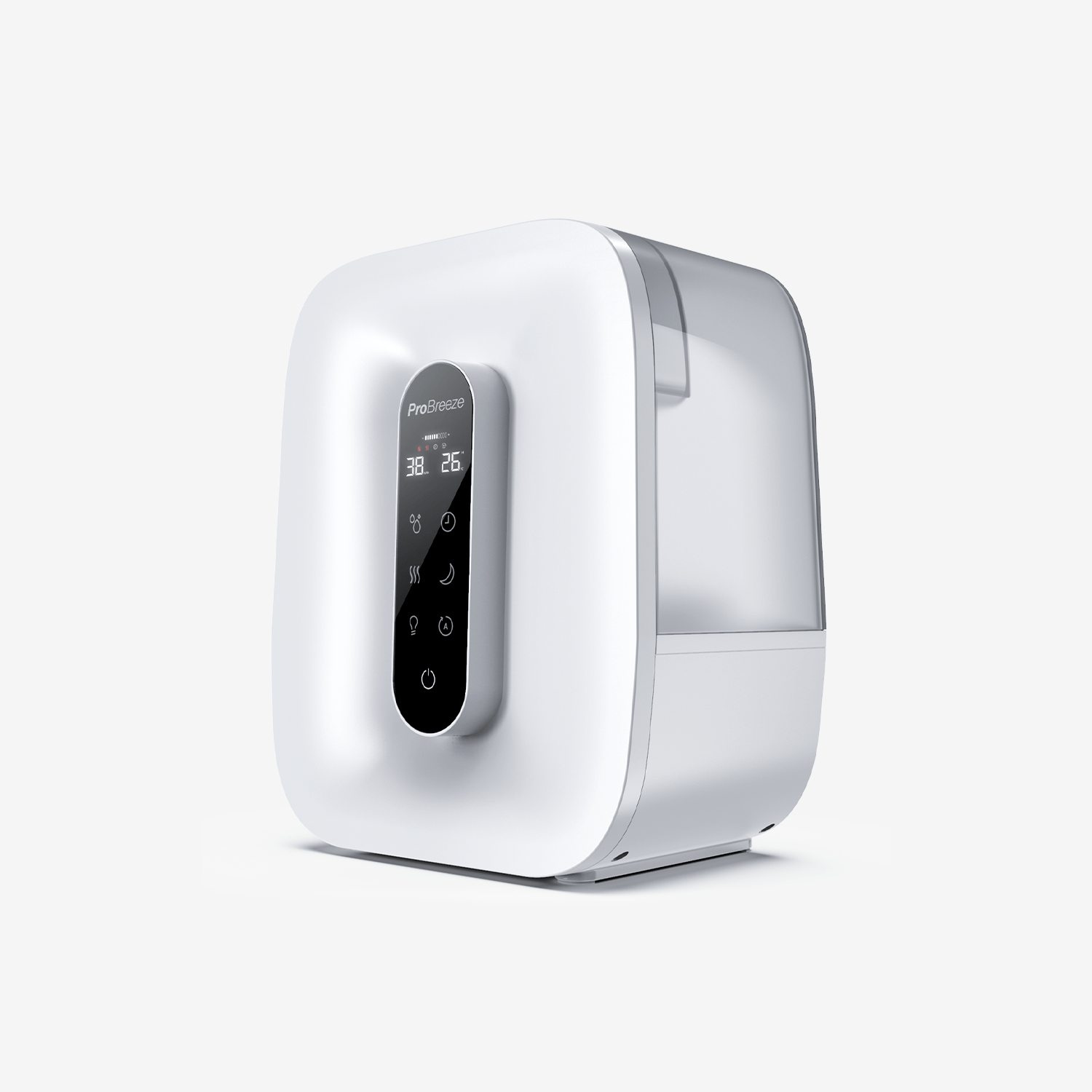 5.6L Ultrasonic Humidifier with Aroma Diffuser Pod
Moisturise the air in your home with this 5.6 Litre Ultrasonic Humidifier. Featuring a fully adjustable 360° mist nozzle, it vaporises water into the air for up to 47 hours, while being extremely quiet and energy efficient.
This high-performance 5.6 Litre Ultrasonic Humidifier instantly vaporises water into the air for up to 47 hours – it's perfect for use in homes or bedrooms that has dry air and features a fully adjustable 360° mist nozzle with airflow output of between 120-480ml/hr. It's also extremely quiet and generates less than 42dB of sound to ensure you are left undisturbed as you work or sleep.
Ultrasonic Cool & Warm Mist:

 

The humidifier safely releases moisture into the air for up to 47 hours to reduce dryness. Fully adjustable 360° dual mist output produces both cool and warm mist, with airflow up to 480ml/hr.
Extra-Large Capacity:

 

The large 5.6L water tank allows the humidifier to run continuously throughout the day and night in rooms up to 70m2. With a noise output of less than 42dB, it can be used all night without causing a disturbance.
LED Display with Auto Mode:

 

Accurately monitors room humidity and adjusts mist output to maintain desired humidity level. The LED screen also displays the current room temperature, with a fully adjustable auto-off timer for any duration between 1 and 12 hours.
Ion-Exchange Resin Filter:

 

Utilising ion-exchange resin filter technology to remove impurities from the water before it is vaporised, providing you with clean hydrating mist.
Essential Oils Pod:

 

Add essential oils to the aroma diffuser pod to create a scented mist that fills your room with a soothing aroma.
Digital display

Yes

Dimensions

255 x 186 x 330mm

Energy Consumption

0.055 kW.h

Filter

Yes (Ion-exchange Resin filter)

Noise Level

≤42 dBA

Output per Hour

Cool mist 120(min) to 280-380 ml(g)/h, Warm mist 120(min) to 380-480 ml(g)/h

Power Voltage

220-240V

Timer

1-12 hr

Water Tank Capacity

5.6L

Weight

2.55kg
Free Standard Delivery
All orders placed within Europe come with free Standard delivery. The delivery time will vary depending on the shipping location.
Please allow the following number of working days for your order to arrive.
Germany: 1-3 days
Belgium, France, Austria, The Netherlands, Spain, Italy, Poland: 3-5 days
Austria: 5-7 days
Portugal, Sweden, Czech Republic: 7-10 days
Returns
Orders can be returned within 30 days of the original purchase date, provided the order is unused and unopened. Please follow the steps here to return your order.
If you're concerned that your product is faulty, please contact our Customer Care Team here.
Dimensions

255 x 186 x 330mm

Weight

2.55kg

Water Tank Capacity

5.6L

Energy Consumption

0.055 kW.h

Noise level

≤42 dBA

Power voltage

220-240V

Output per hour

Cool mist 120(min) to 280-380 ml(g)/h, Warm mist 120(min) to 380-480 ml(g)/h

Filter

Yes (Ion-exchange Resin filter)
Dimensions

235 x 225 x 320mm

Weight

1.15kg

Water Tank Capacity

3.8L

Energy Consumption

0.023 kW·h

Noise level

≤35 dBA

Power voltage

230V

Output per hour

300ml/h

Filter

Yes
Dimensions

255 x 186 x 330mm

Weight

2.55kg

Water Tank Capacity

5.6L

Energy Consumption

0.055 kW.h

Noise level

≤42 dBA

Power voltage

220-240V

Output per hour

Cool mist 120(min) to 280-380 ml(g)/h, Warm mist 120(min) to 380-480 ml(g)/h

Filter

Yes (Ion-exchange Resin filter)