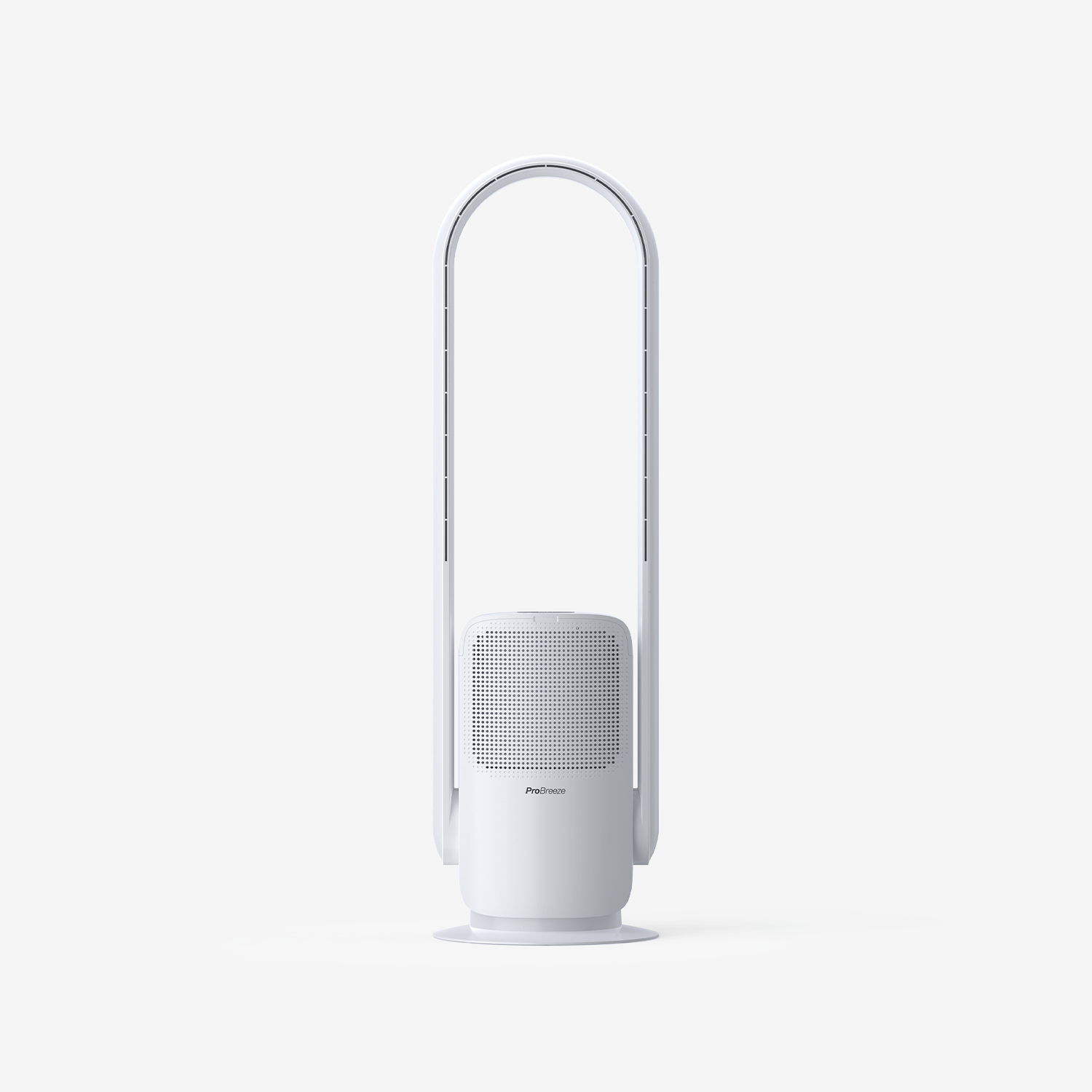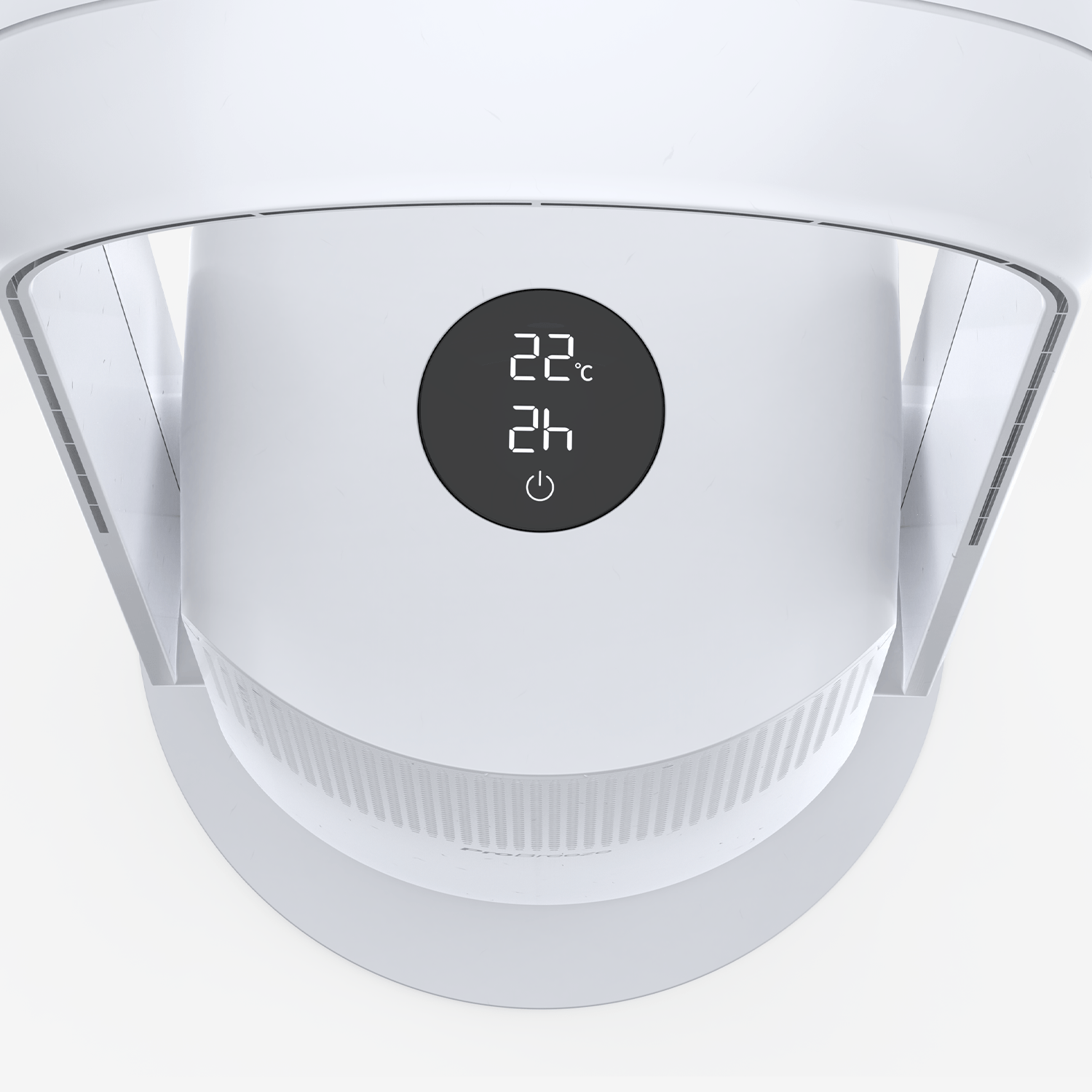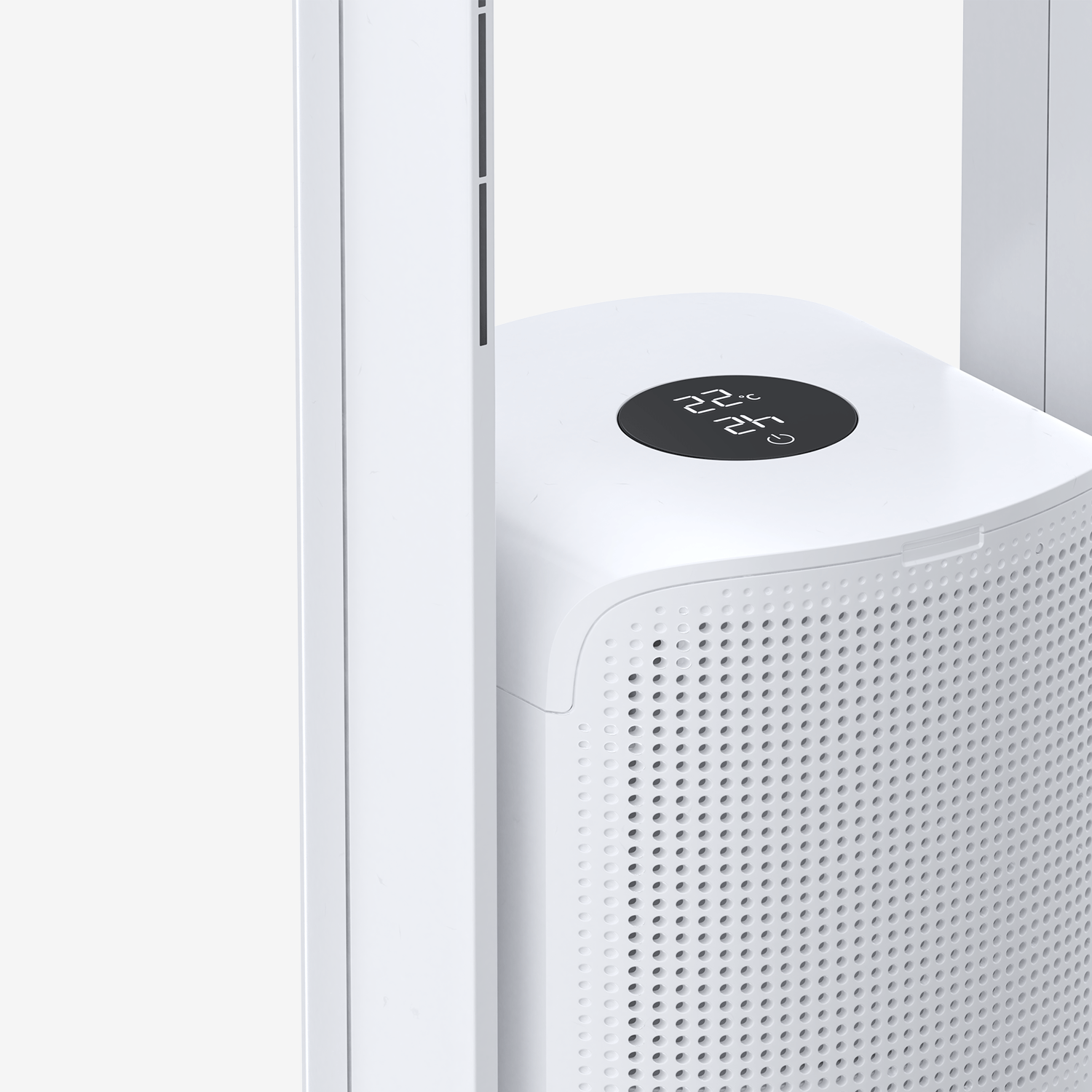 32" Bladeless Tower Fan and Air Purifier
Refresh your space at the tap of a button while also removing impurities from the air with the 32" Bladeless Tower Fan. The fan's 9 speed settings and 4 operating modes can be set via wireless remote control.
This Pro Breeze 32" Bladeless Tower Fan features an advanced Air Purifying filter which removes up to 99% of dust, pollen, odours and pollutants from the air. With whisper quiet operation (32dB), Sleep Mode keeps you cool without disturbing your sleep. At the tap of a button this fan will automatically oscillates 80° for room wide cooling and can be manually tilted 30°.

Bladeless Design: Features our innovative Air Stream Cooling Technology which amplifies cooling power to send a stream of cool air-purified air across your home, office or bedroom.
HEPA H13 Air Purifier: Features an advanced HEPA H13 filter which removes 99.99% of dust, pollen, smoke, odours and pollutants as small as 0.3 microns from the air.  Keeps you cool whilst reducing hay fever and allergy symptoms.
9 Speed Settings: Use the remote to select from 9 speed settings in fan mode.
5 Operating Modes: Select from Auto, Natural, Sleep or Max operating modes. Sleep Mode provides whisper quiet cooling (32dB). Max Mode delivers powerful cooling. Auto Mode adjusts speed depending on room temperature and Natural Mode adjusts fan speed to mimic a cool natural wind.
80° Degree Oscillation: At the tap of a button this portable fan automatically oscillates 80° from side to side and can also be vertically tilted up to 30 degrees.
Digital Display: The easy-to-read LED screen displays the current room temperature and humidity.
Safe, Powerful & Quiet: Designed for use in your bedroom, nursery, home, office or lounge, this stylish blade less fan is both safe by design and easy to use and clean.
Air Output Cadar

CADR 70m3/hr

Dimensions

235 x 235 x 810mm

Energy Consumption

9.4 kW·h

Filter

H13 (CADR 70m3/hr)

Hepa Filter

H13

Maximum Room size

20-25 sq m

Noise Level

32-58 dBA

Oscillation

80° Horizontal (auto), 30° Vertical (manual)

Power Cord Length

150 cm

Power Voltage

220-240V

Remote Control Battery Type

CR2025

Timer

8 hr

Weight

4kg

Wind Velocity

4 m/s

Fan Speed Settings

9 + 2

Speed Settings

9 + 2

Remote Control

Yes

Touch Panel

Yes
Free Standard Delivery
All orders placed within Europe come with free Standard delivery. The delivery time will vary depending on the shipping location.
Please allow the following number of working days for your order to arrive.
Germany: 1-3 days
Belgium, France, Austria, The Netherlands, Spain, Italy, Poland: 3-5 days
Austria: 5-7 days
Portugal, Sweden, Czech Republic: 7-10 days
Returns
Orders can be returned within 30 days of the original purchase date, provided the order is unused and unopened. Please follow the steps here to return your order.
If you're concerned that your product is faulty, please contact our Customer Care Team here.
Dimensions

235 x 235 x 810mm

Weight

4kg

Power Voltage

220-240V

Air Output Cadar

CADR 70m3/hr

Hepa Filter

H13

Speed Settings

9 + 2

Air Output Cadar

CADR 70m3/hr

Maximum room size

20-25 sq m
Dimensions

240 x 240 x 765mm

Weight

3.15kg

Noise level

52-62 dBA

Power voltage

220-240V

Wind velocity

1.73 m/s

Oscillation

Auto

Remote control battery type

CR2025 x 1 (included)

Power cord length

167 cm

Speed Settings

3

Touch Panel

Yes

Remote Control

Yes

Fan speed settings

3

Maximum room size

Medium
Dimensions

300 x 300 x 1013mm

Weight

3.7kg

Noise level

48-62 dBA

Power voltage

220-240V

Wind velocity

3 m/s

Oscillation

90° (auto)

Remote control battery type

AAA X 2 (included)

Power cord length

180 cm

Speed Settings

3

Touch Panel

No

Remote Control

Yes

Fan speed settings

3

Maximum room size

Medium
Dimensions

315 x 315 x 1170mm

Weight

3.66kg

Noise level

54 dBA

Power voltage

220-240V

Wind velocity

2.96 m/s

Oscillation

70°

Remote control battery type

CR2025 x 1 (Included)

Power cord length

150 cm

Speed Settings

3

Touch Panel

Yes

Remote Control

Yes

Fan speed settings

3

Maximum room size

Medium