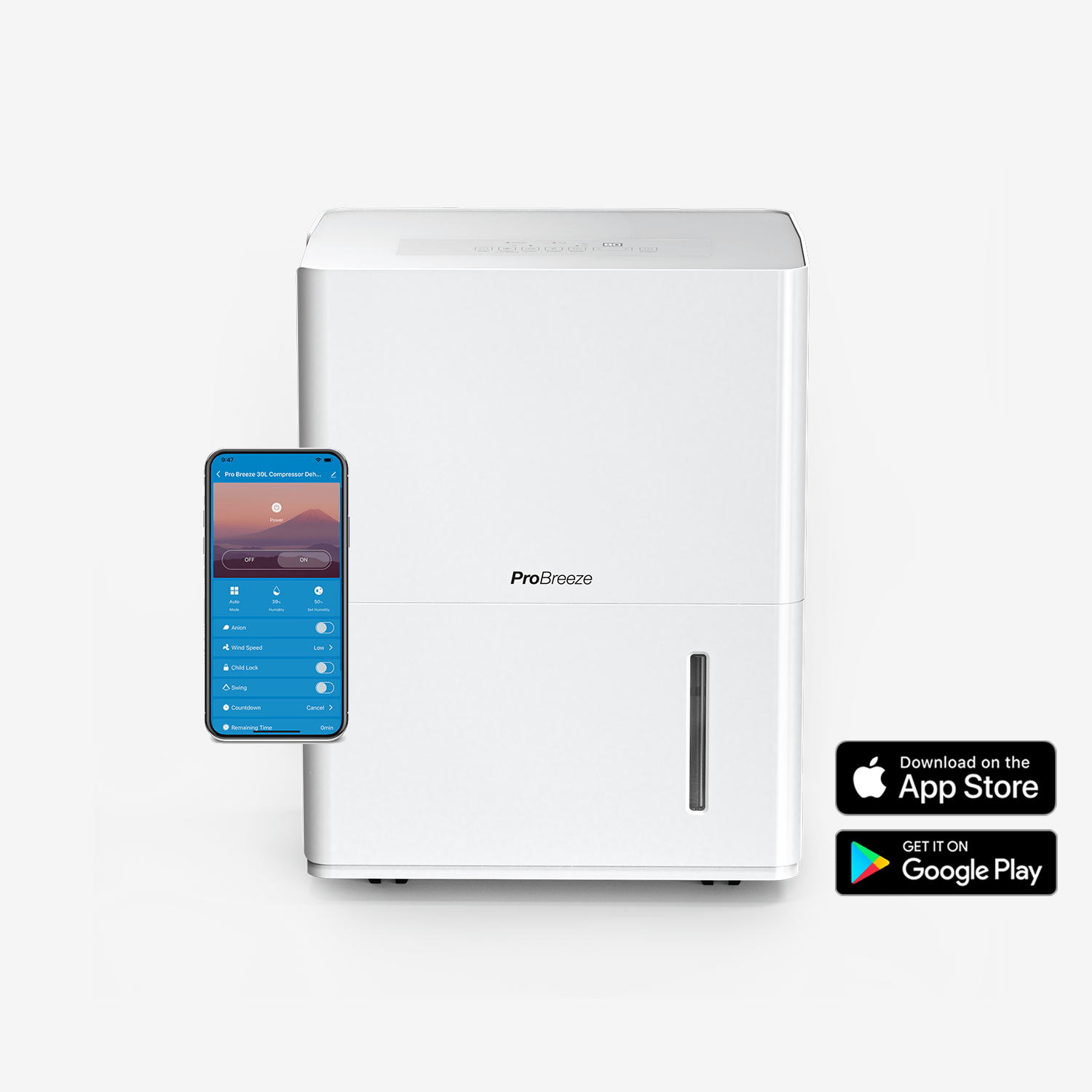 30L Dehumidifier with Smart App Control
Take control of the humidity in your home with this 30L Smart Dehumidifier. A large 3L water tank removes up to 30 litres of moisture per day, making it ideal for large spaces with persistent humidity issues. Control the dehumidifier from anywhere using the free smartphone app.
This Smart Dehumidifier quickly and efficiently combats humidity issues. It uses an energy-efficient compressor to remove up to 30 litres of moisture per day and is ideal for use in large spaces. A large 3L water tank ensures continuous moisture collection throughout the day, and a drainage hose is included for optional plumbing into a drain or container for uninterrupted use. The free smartphone app allows you to schedule the dehumidifier to turn on/off or change operating mode according to your schedule.

30 Litres Per Day:

 

Removes up to 30L of water per day with low energy consumption in temperatures between 5°C and 32°C.
Free Smart App & Digital Control Panel:

 

View your room's current humidity, set a target humidity and select from 3 operating modes.
Reduce Clothing Drying Time:

 

A great way to absorb moisture in the air when drying your clothes. Offering a reliable & cost-effective boost to all your laundry-drying needs.
Costs as little as 24 p/hour to run:

 

Our energy-efficient dehumidifier has been designed to automatically shut off once it has reached your desired humidity level.
Smart Dehumidification:

 

Save energy and optimise performance by creating an on/off schedule using the operating mode you need via the app.
Automatic Humidity Sensor:

 

Set your desired room humidity between 35%-85%. Once this level is reached, the compressor will turn off to conserve energy.
Large Water Tank:

 

The large 3L water tank triggers an auto shut-off once full. Use the continuous drainage hose included for uninterrupted use.
Dimensions

386 x 260 x 500mm

Energy Consumption

0.715 kW.h

Filter

Yes

Max Extraction

30L

Maximum Room size

624-785 sq ft

Noise Level

≤48.5/50 dBA

Power Cord Length

180 cm

Power Voltage

220-240V

Timer

Yes

Type

Compressor

Water Tank Capacity

3L

Weight

17kg

Airflow Rate

191 m3/h

Continuos Drainage Option

Yes

Hose Diameter

10 (Inner), 11 (Outer) mm

Hose Length

60 cm

Led Display

Yes

Humidity Indicator

Yes

Working Temperature

3 - 32°C
Free Standard Delivery
All orders placed within Europe come with free Standard delivery. The delivery time will vary depending on the shipping location.
Please allow the following number of working days for your order to arrive.
Germany: 1-3 days
Belgium, France, Austria, The Netherlands, Spain, Italy, Poland: 3-5 days
Austria: 5-7 days
Portugal, Sweden, Czech Republic: 7-10 days
Returns
Orders can be returned within 30 days of the original purchase date, provided the order is unused and unopened. Please follow the steps here to return your order.
If you're concerned that your product is faulty, please contact our Customer Care Team here.
Dimensions

386 x 260 x 500mm

Weight

17kg

Type

Compressor

Water Tank Capacity

3L

Max Extraction

30L

Maximum Room Size

624-785 sq ft

Energy Consumption

0.715 kW.h

Noise Level

≤48.5/50 dBA

Continuous Drainage Option

Yes

Led Display

Yes

Humidity Indicator

Yes

Working Temperature

3 - 32°C

Airflow rate

191 m3/h
Dimensions

246 × 338 x 512mm

Weight

16.5kg

Type

Compressor

Water Tank Capacity

4L

Max Extraction

30L

Maximum Room Size

15-20m2

Energy Consumption

0.4 kW·h

Noise Level

46 dBA

Continuous Drainage Option

Yes

Led Display

Yes

Humidity Indicator

Yes

Working Temperature

5-32°C

Airflow rate

200 m3/h
Dimensions

580 x 320 x 200mm

Weight

13.8kg

Type

Compressor

Water Tank Capacity

5.5L

Max Extraction

20L

Maximum Room Size

215 - 322 sqft

Energy Consumption

0.45 kW·h

Noise Level

≤48 dBA

Touch Panel

Yes

Continuous Drainage Option

Yes

Led Display

Yes

Humidity Indicator

Yes

Working Temperature

5 - 32°C

Airflow rate

195 m3/h
Dimensions

386 x 260 x 500mm

Weight

17kg

Type

Compressor

Water Tank Capacity

3L

Max Extraction

30L

Maximum Room Size

624-785 sq ft

Energy Consumption

0.715 kW.h

Noise Level

≤48.5/50 dBA

Continuous Drainage Option

Yes

Led Display

Yes

Humidity Indicator

Yes

Working Temperature

3 - 32°C

Airflow rate

191 m3/h
Dimensions

246 × 338 x 512mm

Weight

16.5kg

Type

Compressor

Water Tank Capacity

4L

Max Extraction

30L

Maximum Room Size

15-20m2

Energy Consumption

0.4 kW·h

Noise Level

46 dBA

Continuous Drainage Option

Yes

Led Display

Yes

Humidity Indicator

Yes

Working Temperature

5-32°C

Airflow rate

200 m3/h
Dimensions

580 x 320 x 200mm

Weight

13.8kg

Type

Compressor

Water Tank Capacity

5.5L

Max Extraction

20L

Maximum Room Size

215 - 322 sqft

Energy Consumption

0.45 kW·h

Noise Level

≤48 dBA

Touch Panel

Yes

Continuous Drainage Option

Yes

Led Display

Yes

Humidity Indicator

Yes

Working Temperature

5 - 32°C

Airflow rate

195 m3/h