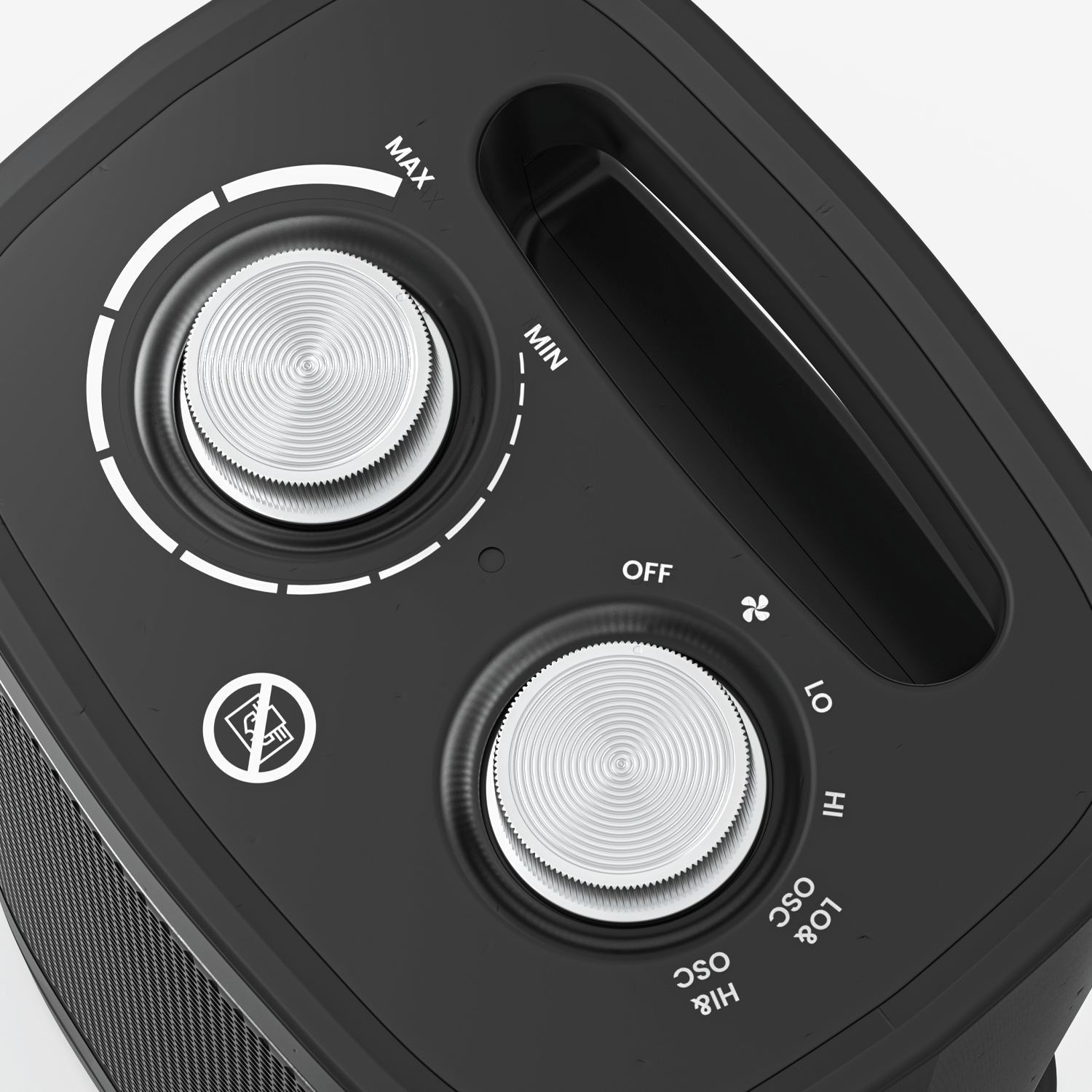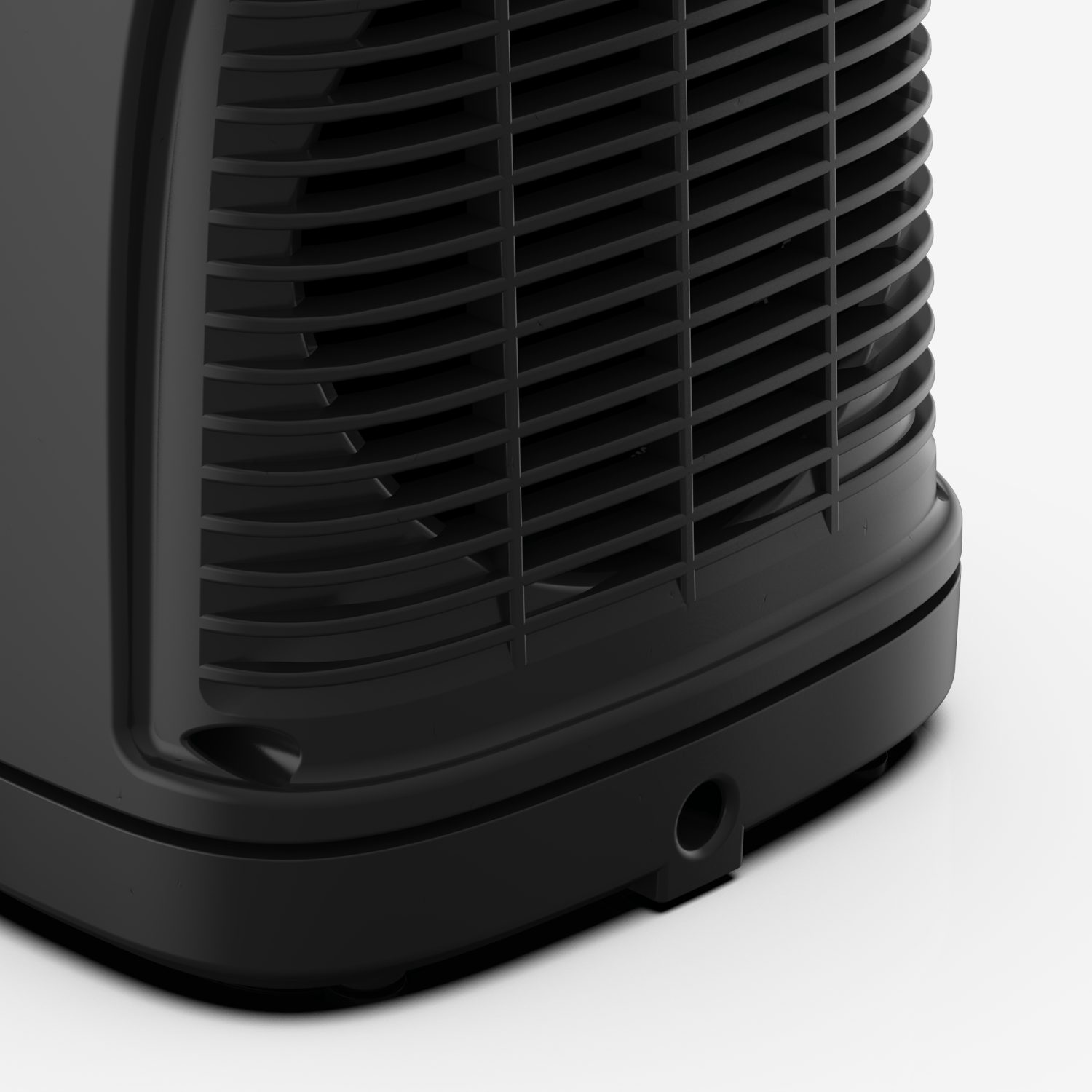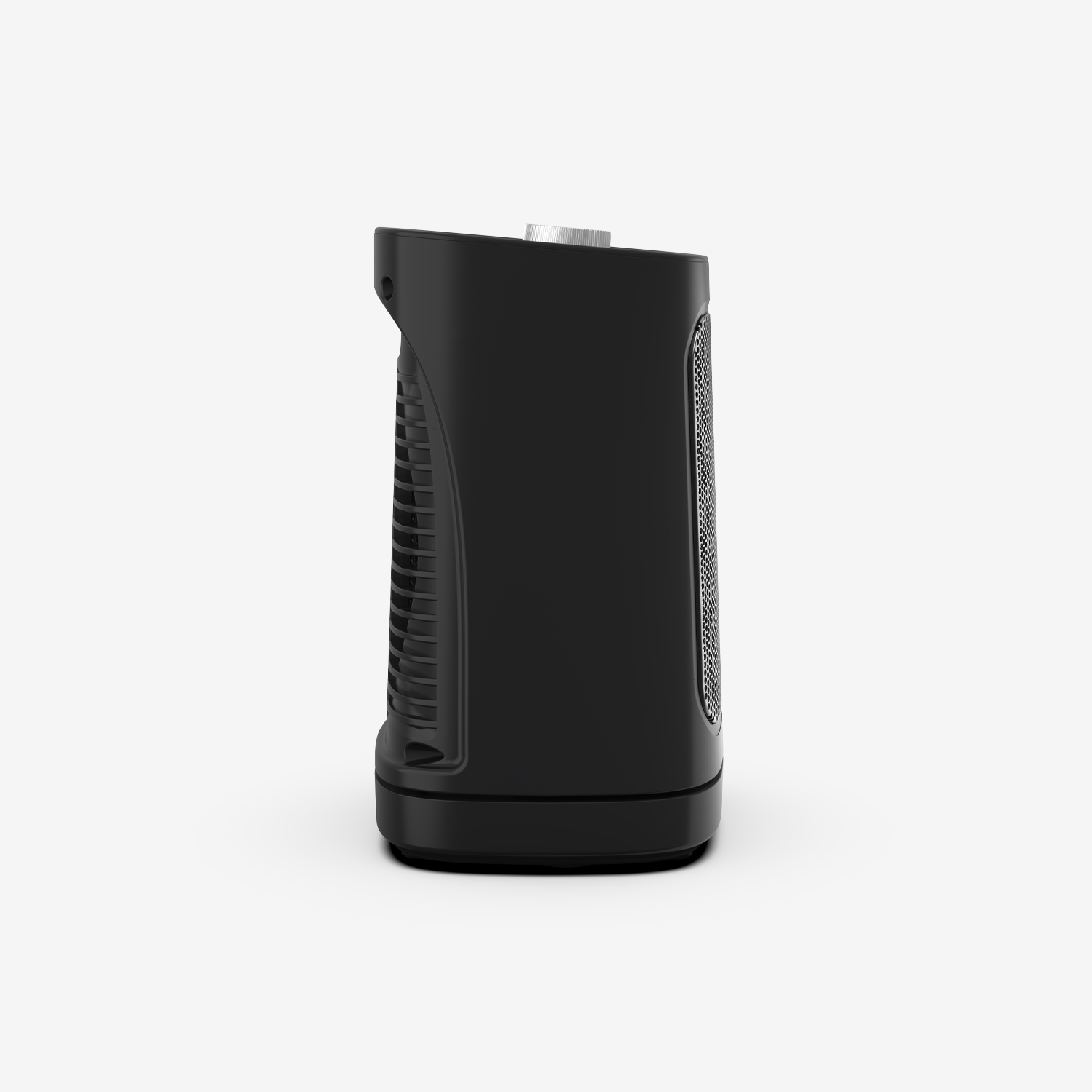 1800W Mini Ceramic Fan Heater - Black
Perfect for small spaces such as bedrooms and home office corners, this 1800W Mini Ceramic Heater will keep you warm while helping you save on energy bills. It has an automatic 60° oscillation and adjustable thermostat to ensure optimal heating efficiency.
This 1800W Mini Ceramic Heater utilises ceramic heating discs for ultra-warm heat transfer in small spaces. Ceramic heating is the latest technology in mini heaters and provides a faster, safer and more energy-efficient method of heating than traditional fan heaters. At the flick of a switch, the ceramic fan heater will rotate from side to side to quickly warm a wide area. Perfect for use in your personal space – on or under tables, next to your bed, at home or in the office.
Ceramic Technology:

 

Advanced ceramic heating elements provide faster and more efficient heating than traditional heaters. This electric heater is perfect for keeping you warm this winter.
2 Power Settings, Oscillation & Fan Only Mode:

 

Includes 1800W (High) and 1000W (Low) power settings as well an automatic 60° oscillation mode for heating larger rooms and spaces.
Adjustable Thermostat:

 

An easy-to-use and fully adjustable thermostat control is built into the mini heater to monitor the temperature around and ensure optimal heating and energy efficiency.
Portable:

 

The lightweight compact design and carry handle allow the heater to be easily transported to wherever you need it most, making it great for use in homes, bedrooms, garages, schools and offices.
Advanced Safety:

 

Built in overheat protection and anti-tip-over switch ensure the heater instantly switches off in any unsafe situation.
Dimensions

175 x 132 x 240mm

Energy Consumption

1.8 kW·h

Max Output

1800W

Maximum Room size

Personal Heating

Noise Level

≤48dBA

Oscillation

Auto

Output Settings

1800W/1000W

Overheat Protection

Yes

Power Cord Length

150 cm

Power Voltage

220-240V

Thermostat

Yes

Timer

No

Tip Over Switch

Yes

Type

Ceramic Fan

Weight

1.63kg
Free Standard Delivery
All orders placed within Europe come with free Standard delivery. The delivery time will vary depending on the shipping location.
Please allow the following number of working days for your order to arrive.
Germany: 1-3 days
Belgium, France, Austria, The Netherlands, Spain, Italy, Poland: 3-5 days
Austria: 5-7 days
Portugal, Sweden, Czech Republic: 7-10 days
Returns
Orders can be returned within 30 days of the original purchase date, provided the order is unused and unopened. Please follow the steps here to return your order.
If you're concerned that your product is faulty, please contact our Customer Care Team here.
Dimensions

175 x 132 x 240mm

Weight

1.63kg

Type

Ceramic Fan

Energy Consumption

1.8 kW·h

Noise level

≤48dBA

Overheat protection

Yes

Power voltage

220-240V

Max output

1800W

Output settings

1800W/1000W

Thermostat

Yes

Timer

No

Tip over switch

Yes

Maximum room size

Personal Heating
Dimensions

13.5 x 17.5 x 22.8 cm

Weight

1.4kg

Type

Ceramic Fan

Energy Consumption

2 kW·h

Noise level

≤60 dBA

Overheat protection

Yes

Power voltage

220-240V

Max output

2000W

Output settings

900W/1300W/2000W

Thermostat

Yes

Timer

No

Tip over switch

Yes

Maximum room size

Small
Dimensions

185 x 155 x 262mm

Weight

1.75kg

Type

Ceramic Fan

Energy Consumption

2 kW·h

Noise level

≤57 dBA

Overheat protection

Yes

Power voltage

220-240V

Max output

2000W

Output settings

2000W / 1200W

Thermostat

Yes

Timer

No

Tip over switch

Yes

Maximum room size

Personal Heating
Dimensions

175 x 132 x 240mm

Weight

1.63kg

Type

Ceramic Fan

Energy Consumption

1.8 kW·h

Noise level

≤48dBA

Overheat protection

Yes

Power voltage

220-240V

Max output

1800W

Output settings

1800W/1000W

Thermostat

Yes

Timer

No

Tip over switch

Yes

Maximum room size

Personal Heating
Dimensions

13.5 x 17.5 x 22.8 cm

Weight

1.4kg

Type

Ceramic Fan

Energy Consumption

2 kW·h

Noise level

≤60 dBA

Overheat protection

Yes

Power voltage

220-240V

Max output

2000W

Output settings

900W/1300W/2000W

Thermostat

Yes

Timer

No

Tip over switch

Yes

Maximum room size

Small