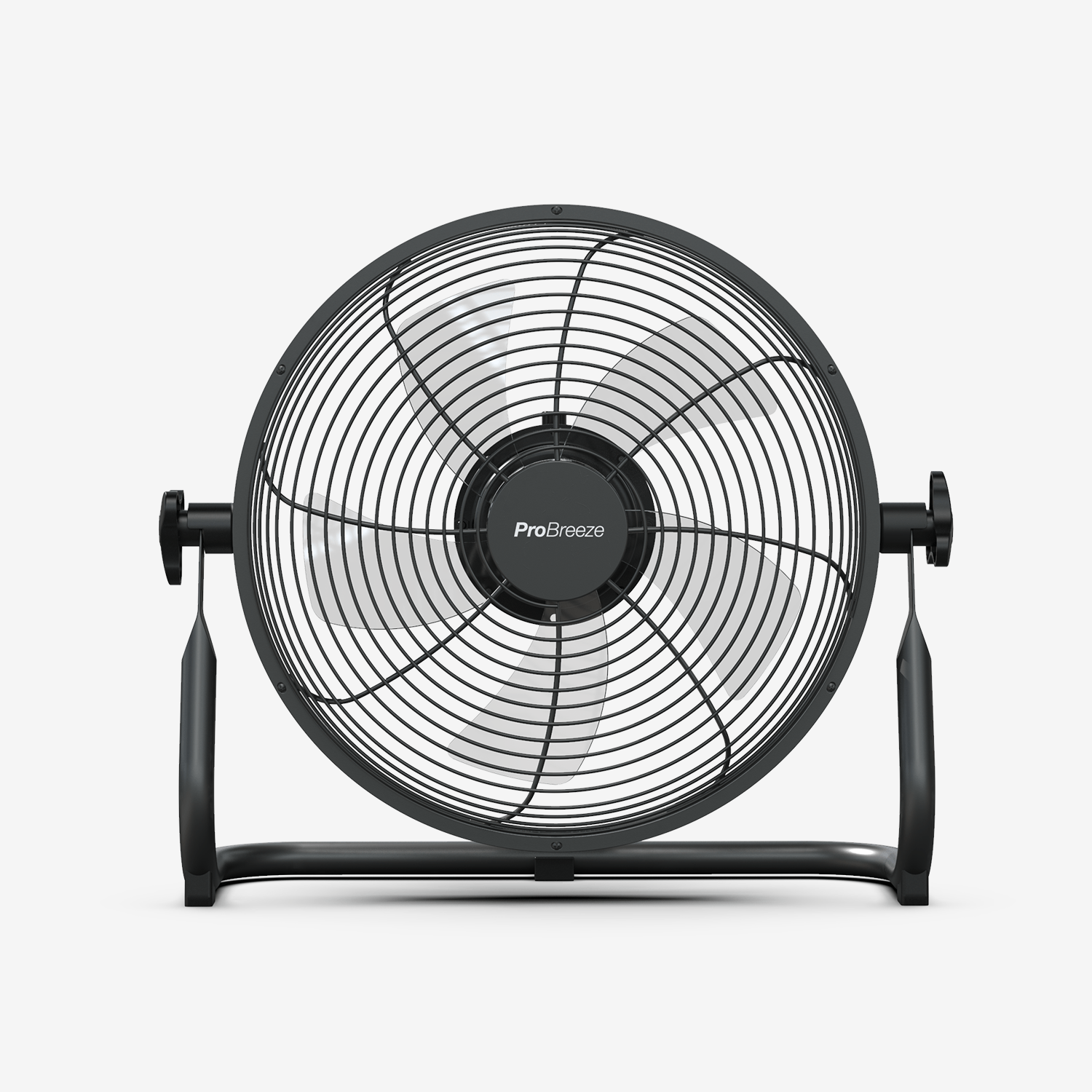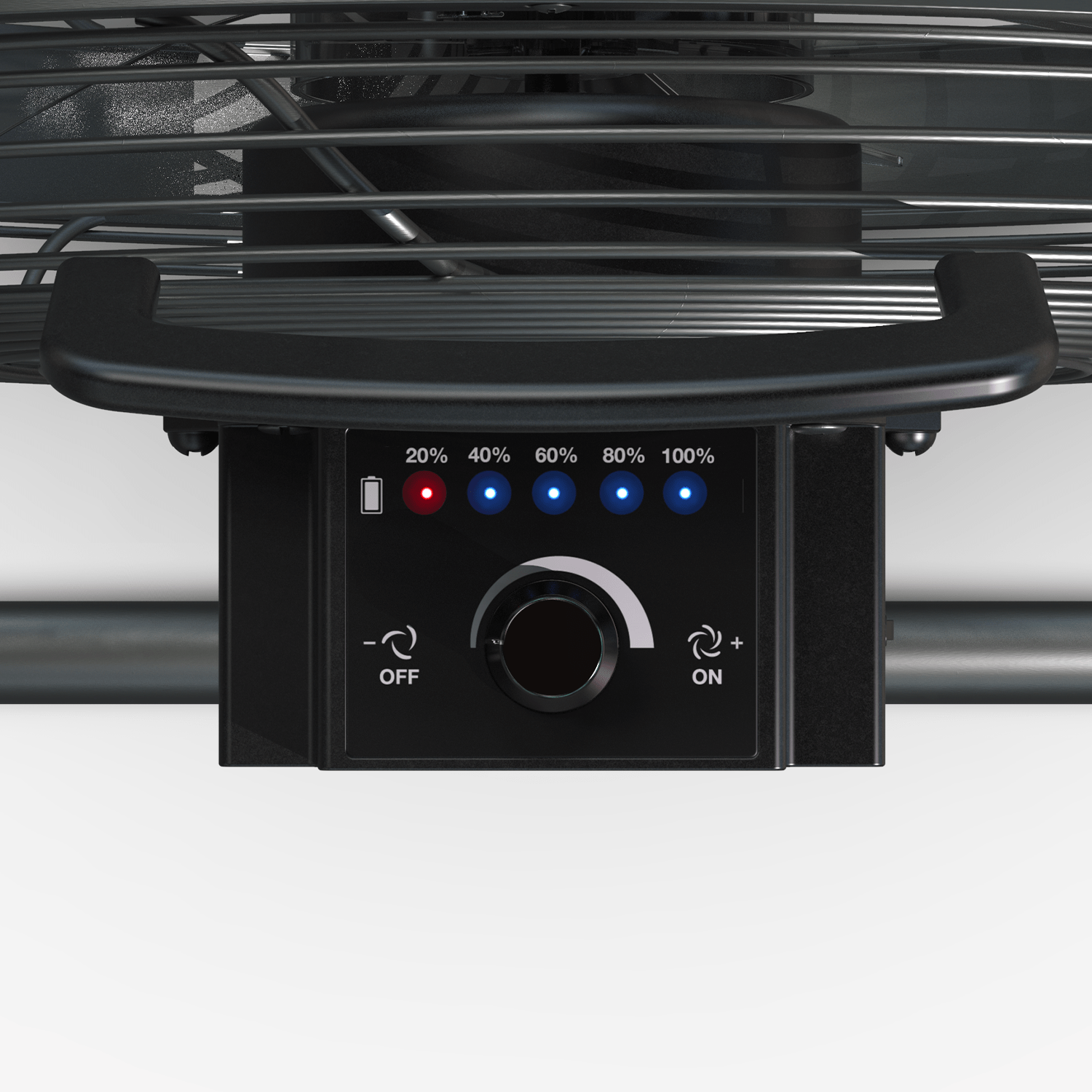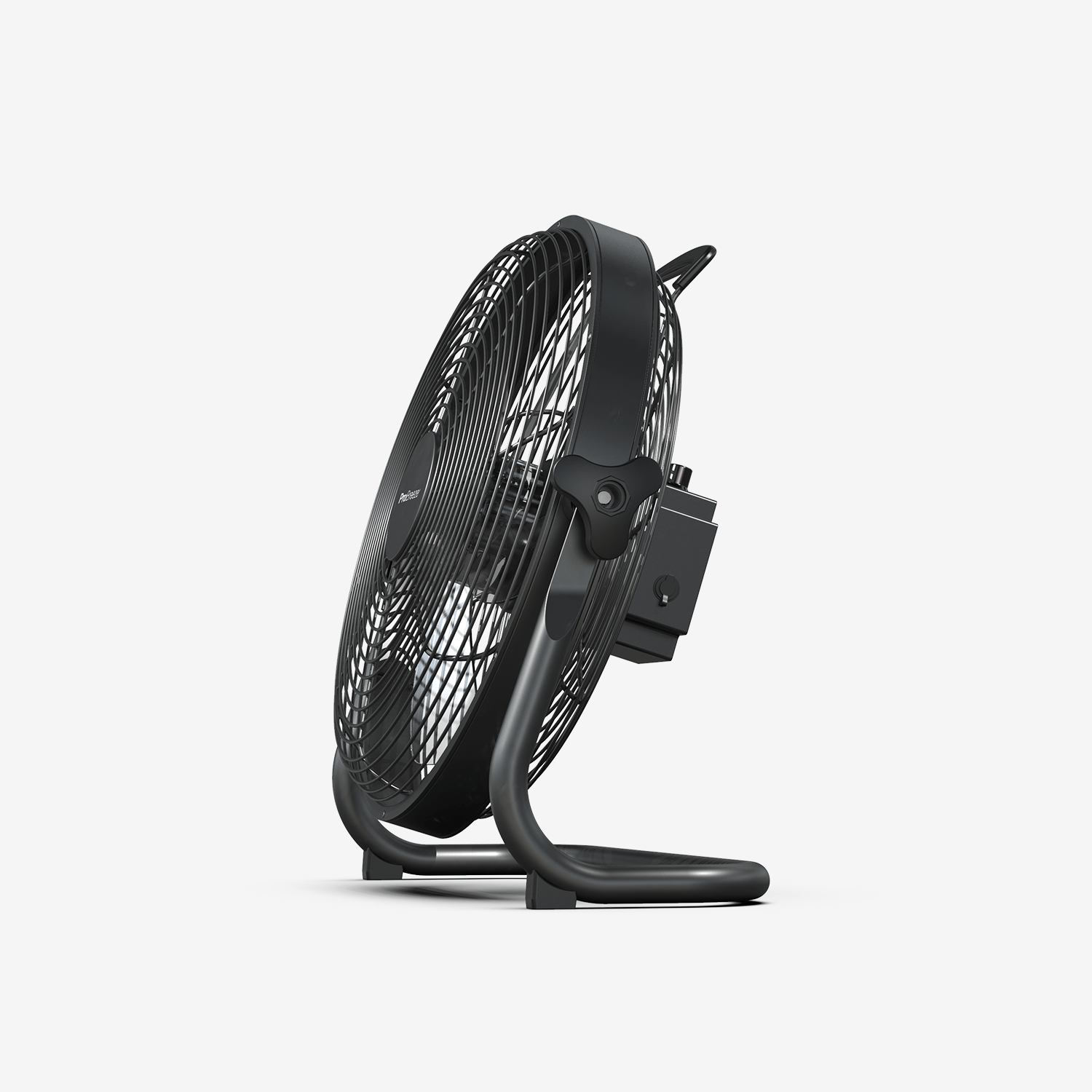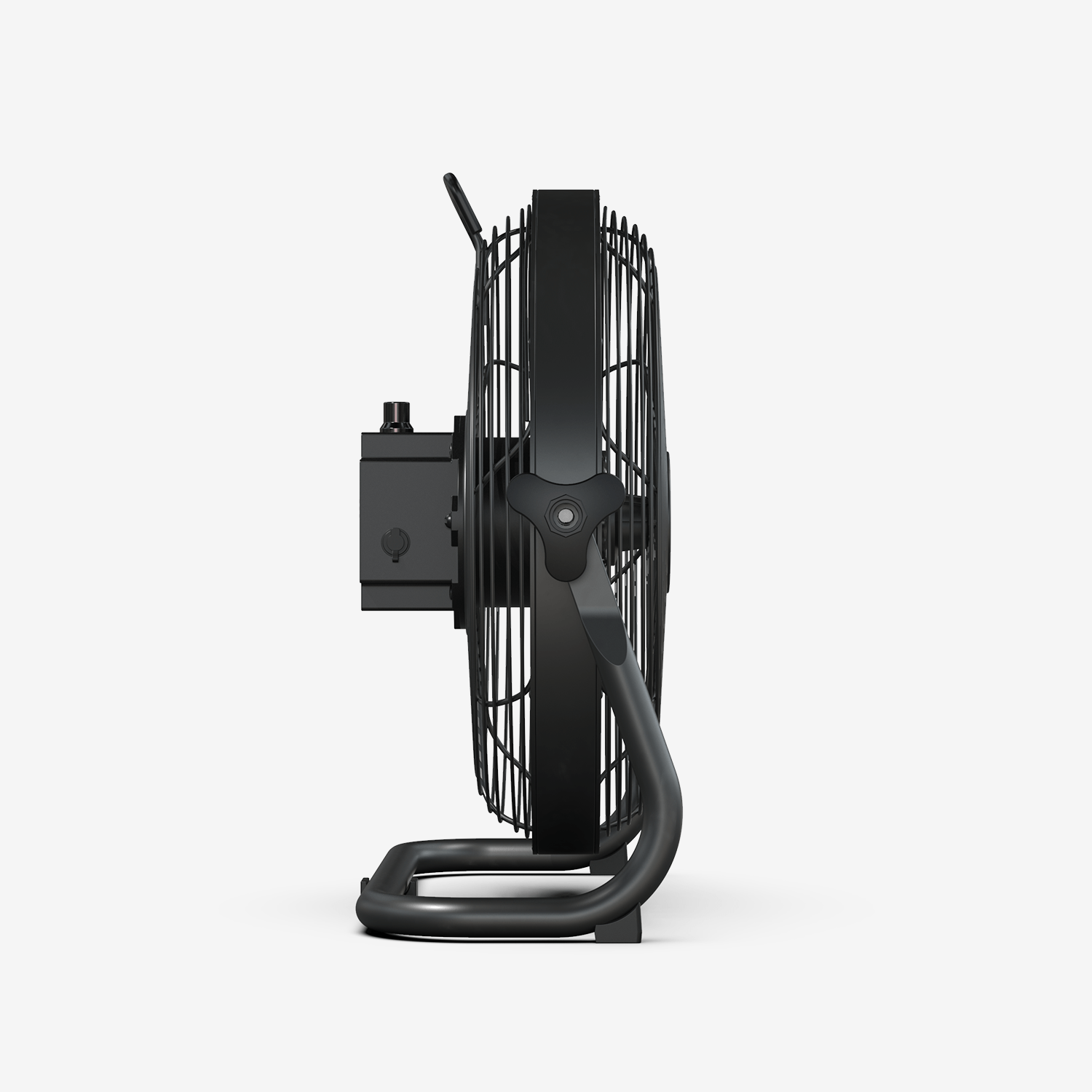 12" Rechargeable Floor Fan
Cool down your home, office, or gym in a matter of seconds with the 12" Rechargeable Floor Fan. Lightweight and powerful, the adjustable 160-degree head can generate strong targeted cooling without needing to be plugged into power while also charging your devices.
This Rechargeable 12" Floor Fan features a high-capacity battery, a powerful brushless DC motor and 5 wind accelerating blades for powerful cooling on the go. Lightweight, compact and portable, this fan is suitable for indoor and outdoor use and does not require a power supply once charged. Features an easy fan speed controller for ultimate cooling flexibility and a fully adjustable fan head for powerful targeted cooling. Use the USB port to charge your devices.

Battery or Mains Powered:

 

This powerful fan features a 18650 Lithium-ion battery with a capacity of 2500 mAh providing up to 24 hours of contentious cooling on low power or up to 4.5 hours of cooling on high power.
Powerful Cooling:

 

Engineered with an innovative 43W brushless DC motor which rotates 5 specially shaped wind accelerating blades up to 1200 times per minute for fast and effective cooling.
Lightweight And Ultra-Portable:

 

Weighing just 3.1kg and featuring an easy-carry handle, this fan can be effortlessly relocated from your home, office, or gym to areas with no power supply including your gardens and local park.
Fully Adjustable:

 

The easy to adjust fan head tilts up to 160 ° for powerful targeted cooling. An easy-to-use fan speed controller provides ultimate cooling flexibility between min and max power.
Quiet Operation & USB Charger:

 

Incorporating quiet running motor technology and 5 noise-reducing blades, on low power this fan will keep you cool without disturbing your sleep. Charge your devices on the go with the included USB port.
Dimensions

440 x 175 x 375mm

Maximum Room size

Medium

Noise Level

45-62 dBA

Oscillation

160° (Vertical)

Power Cord Length

176 cm

Power Voltage

100-240V

Timer

No

Weight

4.3kg

Wind Velocity

1.3-6 m/s

Fan Speed Settings

Multiple Fan Speeds

Speed Settings

Multiple

Remote Control

No

Touch Panel

No
Free Standard Delivery
All orders placed within Europe come with free Standard delivery. The delivery time will vary depending on the shipping location.
Please allow the following number of working days for your order to arrive.
Germany: 1-3 days
Belgium, France, Austria, The Netherlands, Spain, Italy, Poland: 3-5 days
Austria: 5-7 days
Portugal, Sweden, Czech Republic: 7-10 days
Returns
Orders can be returned within 30 days of the original purchase date, provided the order is unused and unopened. Please follow the steps here to return your order.
If you're concerned that your product is faulty, please contact our Customer Care Team here.
Dimensions

440 x 175 x 375mm

Weight

4.3kg

Noise level

45-62 dBA

Power voltage

100-240V

Wind velocity

1.3-6 m/s

Oscillation

160° (Vertical)

Power cord length

176 cm

Speed Settings

Multiple

Touch Panel

No

Remote Control

No

Fan speed settings

Multiple Fan Speeds

Maximum room size

Medium
Dimensions

530 x 200 x 475mm

Weight

5.64kg

Noise level

45-62 dBA

Power voltage

100-240V

Wind velocity

1-5.5 m/s

Oscillation

160° (Vertical)

Power cord length

176 cm

Speed Settings

Multiple

Touch Panel

No

Remote Control

No

Fan speed settings

Multiple Fan Speeds

Maximum room size

Medium
Dimensions

590 x 195 x 570mm

Weight

5kg

Noise level

62-67 dBA

Power voltage

220-240V

Wind velocity

H-4.25 m/s

Oscillation

No

Power cord length

176 cm

Speed Settings

3

Touch Panel

No

Remote Control

No

Fan speed settings

3

Maximum room size

Medium
Dimensions

440 x 175 x 375mm

Weight

4.3kg

Noise level

45-62 dBA

Power voltage

100-240V

Wind velocity

1.3-6 m/s

Oscillation

160° (Vertical)

Power cord length

176 cm

Speed Settings

Multiple

Touch Panel

No

Remote Control

No

Fan speed settings

Multiple Fan Speeds

Maximum room size

Medium
Dimensions

530 x 200 x 475mm

Weight

5.64kg

Noise level

45-62 dBA

Power voltage

100-240V

Wind velocity

1-5.5 m/s

Oscillation

160° (Vertical)

Power cord length

176 cm

Speed Settings

Multiple

Touch Panel

No

Remote Control

No

Fan speed settings

Multiple Fan Speeds

Maximum room size

Medium
Dimensions

590 x 195 x 570mm

Weight

5kg

Noise level

62-67 dBA

Power voltage

220-240V

Wind velocity

H-4.25 m/s

Oscillation

No

Power cord length

176 cm

Speed Settings

3

Touch Panel

No

Remote Control

No

Fan speed settings

3

Maximum room size

Medium