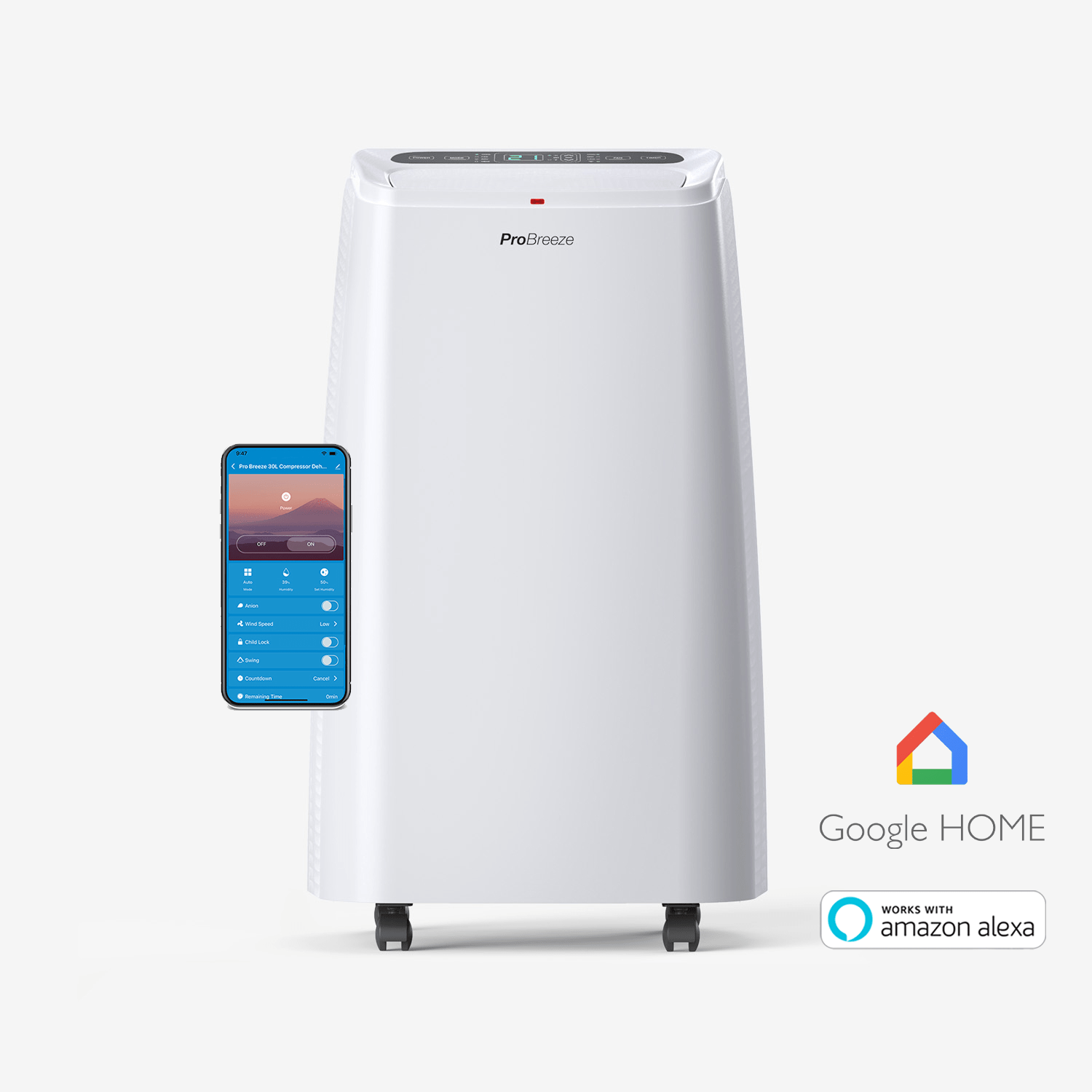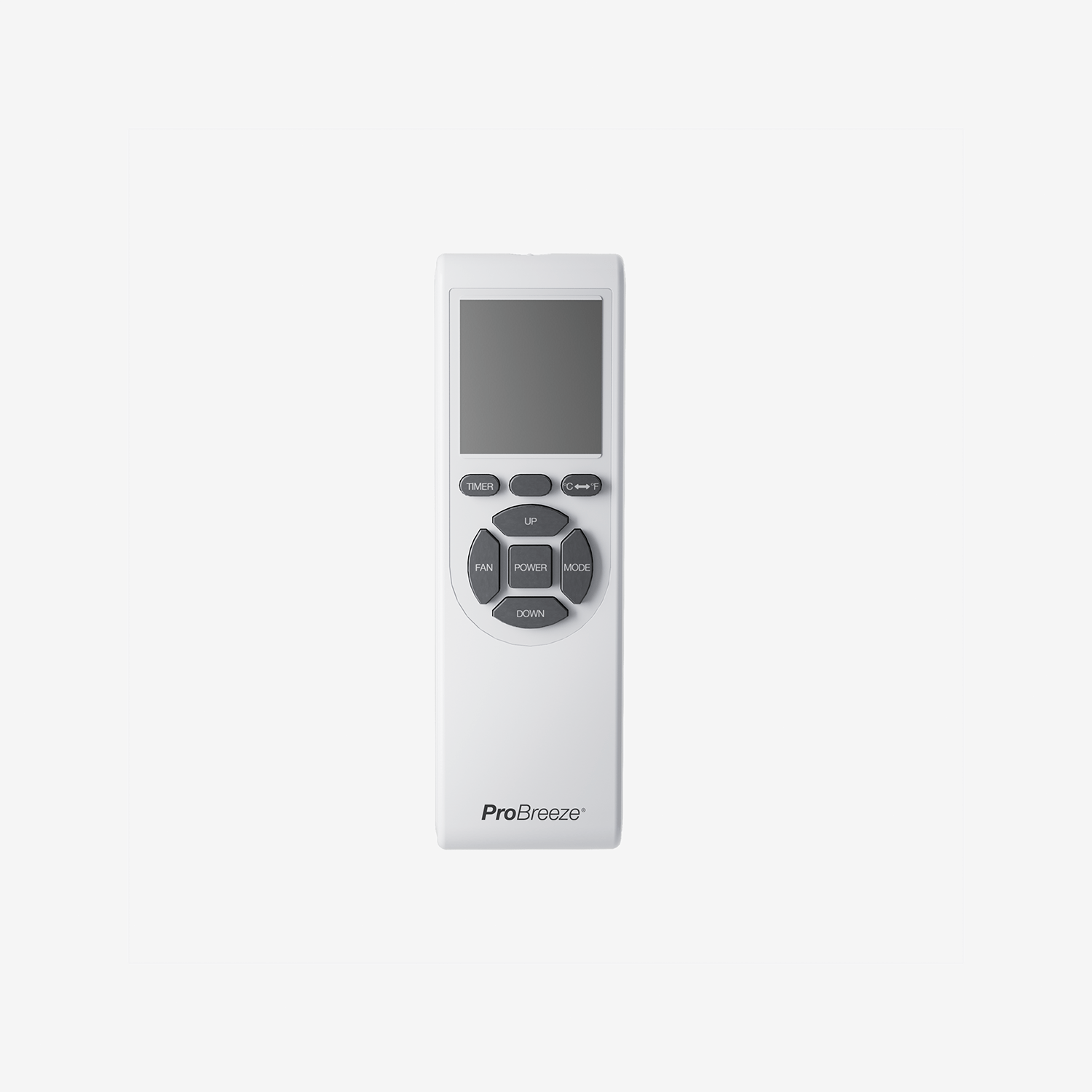 12,000 BTU 4-in-1 Portable Air Conditioner & Heater - WiFi, App & Voice Control Compatible - with Dual Window Kit
Cool your home quickly and efficiently with the 1200 BTU Air Conditioner, perfect for medium to large spaces such as offices, bedrooms, and gyms. Featuring 4 operational modes and a LED control panel, it can be operated from anywhere using the free smartphone app.
This high-performance 12000 BTU Air Conditioner quickly and efficiently cools rooms down to as low as 16°C. With 3 fan speeds and 4 operational modes, including a dehumidifier, air cooler, heating and fan-only modes, it's the perfect addition to homes, offices, bedrooms and gyms. Sleep mode provides energy-efficient cooling, gradually reducing fan speed to ease you into a deep sleep.
Powerful Cooling: 12 000 BTU cooling capacity for powerful cooling in large spaces and provides effective cooling down to 16 °C.
4-in-1 Features: Make use of our four multi-purpose operating modes, including air cooling, dehumidifying, fan-only and heating mode to seamlessly meet all your cooling needs.
Smart Home Technology with Wi-Fi: Connect your smartphone to the AC unit and control the temperature, 24-hour timer and various air con functions through the app or voice command. Compatible with Amazon Alexa and Google Home for iPhone and Android.
Digital Display, Timer & Remote Control: The easy-to-use digital LED display and remote control allow you to have full control of all operational modes. The built-in timer provides 1-to-24-hour turn-on & turn-off functions.
Dual Window Kit Included: We have included an easy-to-install window venting kit with our A/C unit to fit slide and hinged windows. Its four wheels and space-saving design make it portable, mobile and unintrusive.
Energy Efficient: Recognised by a Class A energy rating, the Pro Breeze Air Con Unit utilises R290 refrigerant, which is not only cost-effective but is up to 690 times more eco-friendly than traditional air conditioning gasses.
Cooling capacity

12,000 Btu/h

Dimensions

360 x 430 x 730mm

Energy Consumption

1.324 kW·h cooling, 1.230 kW·h heating

Energy Efficiency Class

A

Modes

Cool, Fan, Dry, Heat

Moisture Removal

1.1L / Hour

Noise Level

56-65 dBA

Oscillation

90° Motor driven horizontal

Power Cord Length

180 cm

Power Voltage

220-240V

Remote Control Battery Type

AAA x 2

Smart Home wifi & app

Yes - Google Assistant & Amazon Alexa

Timer Range

1 - 24hr

Timer

1-24 hr

Type

Air Conditioner

Ventilation Required

Yes - Window Kit Included

Water Tank Capacity

0.6L

Weight

34.5kg

Speed Settings

3

Continuos Drainage Option

Yes

Remote Control

Yes

Available Temperature Setting Range

16℃ - 30℃

Hose Diameter

9 (Inner) 11 (Outer) mm

Water Hose Length

60 cm

Heat Exhaust Hose Length

150 cm
Free Standard Delivery
All orders placed within Europe come with free Standard delivery. The delivery time will vary depending on the shipping location.
Please allow the following number of working days for your order to arrive.
Germany: 1-3 days
Belgium, France, Austria, The Netherlands, Spain, Italy, Poland: 3-5 days
Austria: 5-7 days
Portugal, Sweden, Czech Republic: 7-10 days
Returns
Orders can be returned within 30 days of the original purchase date, provided the order is unused and unopened. Please follow the steps here to return your order.
If you're concerned that your product is faulty, please contact our Customer Care Team here.
Dimensions

360 x 430 x 730mm

Weight

34.5kg

Power voltage

220-240V

Cooling capacity

12,000 Btu/h

Ventilation required

Yes - Window Kit Included

Moisture removal

1.1L / Hour

Smart home wifi & app

Yes - Google Assistant & Amazon Alexa

Energy efficiency class

A

Type

Air Conditioner

Speed Settings

3

Continuous Drainage Option

Yes

Remote Control

Yes

Available Temperature Setting Range

16℃ - 30℃

Hose Diameter

9 (Inner) 11 (Outer) mm

Water Hose Length

60 cm

Heat Exhaust Hose Length

150 cm
Dimensions

325 x 295 x 702mm

Weight

24kg

Power voltage

220-240V

Cooling capacity

9000 Btu/h

Ventilation required

Yes - Window Kit Included

Moisture removal

0.9L/H (Up to 1.08L/H)

Smart home wifi & app

Yes - Google Assistant & Amazon Alexa

Energy efficiency class

A

Type

Air Conditioner

Speed Settings

2 (Low & High)

Continuous Drainage Option

Yes

Remote Control

Yes

Available Temperature Setting Range

16℃ - 30℃

Hose Diameter

9 (Inner) 11 (Outer) mm

Water Hose Length

60 cm

Heat Exhaust Hose Length

150 cm
Dimensions

315 x 31 x 70mm

Weight

24.5kg

Power voltage

220-240V

Cooling capacity

7000 Btu/h

Ventilation required

Yes - Window Kit Included

Moisture removal

0.8L / Hour

Smart home wifi & app

No

Energy efficiency class

A

Type

Air Conditioner

Speed Settings

2 (Low & High)

Continuous Drainage Option

Yes

Remote Control

Yes

Available Temperature Setting Range

16℃ - 32℃

Hose Diameter

9 (Inner) 11 (Outer) mm

Water Hose Length

100 cm

Heat Exhaust Hose Length

150 cm
Dimensions

360 x 430 x 730mm

Weight

34.5kg

Power voltage

220-240V

Cooling capacity

12,000 Btu/h

Ventilation required

Yes - Window Kit Included

Moisture removal

1.1L / Hour

Smart home wifi & app

Yes - Google Assistant & Amazon Alexa

Energy efficiency class

A

Type

Air Conditioner

Speed Settings

3

Continuous Drainage Option

Yes

Remote Control

Yes

Available Temperature Setting Range

16℃ - 30℃

Hose Diameter

9 (Inner) 11 (Outer) mm

Water Hose Length

60 cm

Heat Exhaust Hose Length

150 cm
Dimensions

325 x 295 x 702mm

Weight

24kg

Power voltage

220-240V

Cooling capacity

9000 Btu/h

Ventilation required

Yes - Window Kit Included

Moisture removal

0.9L/H (Up to 1.08L/H)

Smart home wifi & app

Yes - Google Assistant & Amazon Alexa

Energy efficiency class

A

Type

Air Conditioner

Speed Settings

2 (Low & High)

Continuous Drainage Option

Yes

Remote Control

Yes

Available Temperature Setting Range

16℃ - 30℃

Hose Diameter

9 (Inner) 11 (Outer) mm

Water Hose Length

60 cm

Heat Exhaust Hose Length

150 cm
Dimensions

315 x 31 x 70mm

Weight

24.5kg

Power voltage

220-240V

Cooling capacity

7000 Btu/h

Ventilation required

Yes - Window Kit Included

Moisture removal

0.8L / Hour

Smart home wifi & app

No

Energy efficiency class

A

Type

Air Conditioner

Speed Settings

2 (Low & High)

Continuous Drainage Option

Yes

Remote Control

Yes

Available Temperature Setting Range

16℃ - 32℃

Hose Diameter

9 (Inner) 11 (Outer) mm

Water Hose Length

100 cm

Heat Exhaust Hose Length

150 cm