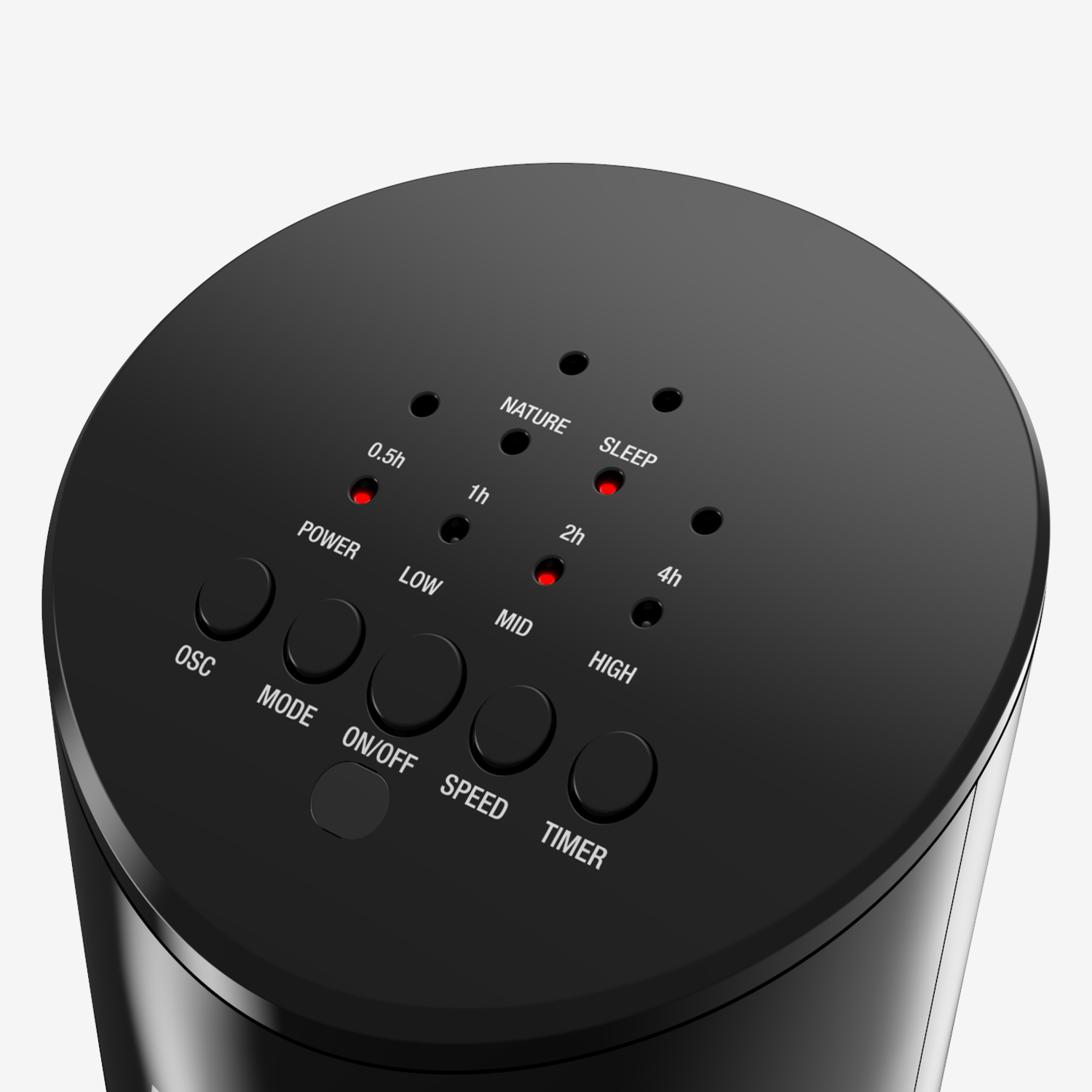 30" Oscillating Tower Fan - Black
Cool down your bedroom, living room or office in seconds with the 30" Oscillating Tower Fan. It lets you choose from 3 speed modes and has a programmable 7.5-hour timer to set the fan to work around your schedule.
This high-powered 30" Oscillating Tower Fan is designed to provide maximum cooling in seconds. A built-in powerful 60-watt motor provides exceptional cooling power delivered in an efficient manner, with 3-speed modes to suit all needs and environments. A 7.5-hour timer with flexible 30-minute increments can be controlled both on the fan itself and with the included remote control.
Powerful Cooling:

 

This ultra-powerful 60W Pro Breeze tower fan boasts a vast 70-degree automatic oscillation coverage, perfect for cooling large areas of your home, living room, bedroom or office. Circulate refreshing scents using the innovative built-in essential oil tray.
3 Fan Speeds & 3 Wind Modes:

 

Equipped with low, medium and high-performance fan speeds and 3 impressive wind modes including normal, natural and sleep to deliver ultimate cooling in all situations. Sleep mode is perfect for making warm summer nights more comfortable.
Remote Control:

 

Featuring an easy-to-use control panel and a convenient wireless remote which gives you the freedom to effortlessly adjust all features including the cool air speed, wind setting and timer from across the room.
Built-In Timer:

 

The 7.5-hour automatic on/off timer with handy flexible 30-minute increments is perfect for helping you to stay cool and save power overnight.
Elegant Modern Design:

 

Combining quality, safety, and performance, this enhanced 30" free-standing fan features a strong space-saving base and slim modern design.
Dimensions

280 x 280 x 785mm

Energy Consumption

0.045 kW·h

Maximum Room size

Medium

Noise Level

52-62 dBA

Oscillation

Auto

Power Cord Length

167 cm

Power Voltage

220-240V

Remote Control Battery Type

CR2025 x 1 (included)

Timer

Yes

Weight

3kg

Wind Velocity

1.73 m/s

Fan Speed Settings

3

Speed Settings

3

Remote Control

Yes

Touch Panel

Yes
Free Standard Delivery
All orders placed within Europe come with free Standard delivery. The delivery time will vary depending on the shipping location.
Please allow the following number of working days for your order to arrive.
Germany: 1-3 days
Belgium, France, Austria, The Netherlands, Spain, Italy, Poland: 3-5 days
Austria: 5-7 days
Portugal, Sweden, Czech Republic: 7-10 days
Returns
Orders can be returned within 30 days of the original purchase date, provided the order is unused and unopened. Please follow the steps here to return your order.
If you're concerned that your product is faulty, please contact our Customer Care Team here.
Dimensions

280 x 280 x 785mm

Weight

3kg

Noise level

52-62 dBA

Power voltage

220-240V

Wind velocity

1.73 m/s

Oscillation

Auto

Remote control battery type

CR2025 x 1 (included)

Power cord length

167 cm

Speed Settings

3

Touch Panel

Yes

Remote Control

Yes

Fan speed settings

3

Maximum room size

Medium
Dimensions

300 x 300 x 1013mm

Weight

3.7kg

Noise level

48-62 dBA

Power voltage

220-240V

Wind velocity

3 m/s

Oscillation

90°

Remote control battery type

AAA X 2 (included)

Power cord length

180 cm

Speed Settings

3

Touch Panel

No

Remote Control

Yes

Fan speed settings

3

Maximum room size

Medium
Dimensions

315 x 315 x 1170mm

Weight

3.66kg

Noise level

54 dBA

Power voltage

220-240V

Wind velocity

2.96 m/s

Oscillation

70°

Remote control battery type

CR2025 x 1 (Included)

Power cord length

150 cm

Speed Settings

3

Touch Panel

Yes

Remote Control

Yes

Fan speed settings

3

Maximum room size

Medium
Dimensions

280 x 280 x 785mm

Weight

3kg

Noise level

52-62 dBA

Power voltage

220-240V

Wind velocity

1.73 m/s

Oscillation

Auto

Remote control battery type

CR2025 x 1 (included)

Power cord length

167 cm

Speed Settings

3

Touch Panel

Yes

Remote Control

Yes

Fan speed settings

3

Maximum room size

Medium
Dimensions

300 x 300 x 1013mm

Weight

3.7kg

Noise level

48-62 dBA

Power voltage

220-240V

Wind velocity

3 m/s

Oscillation

90°

Remote control battery type

AAA X 2 (included)

Power cord length

180 cm

Speed Settings

3

Touch Panel

No

Remote Control

Yes

Fan speed settings

3

Maximum room size

Medium