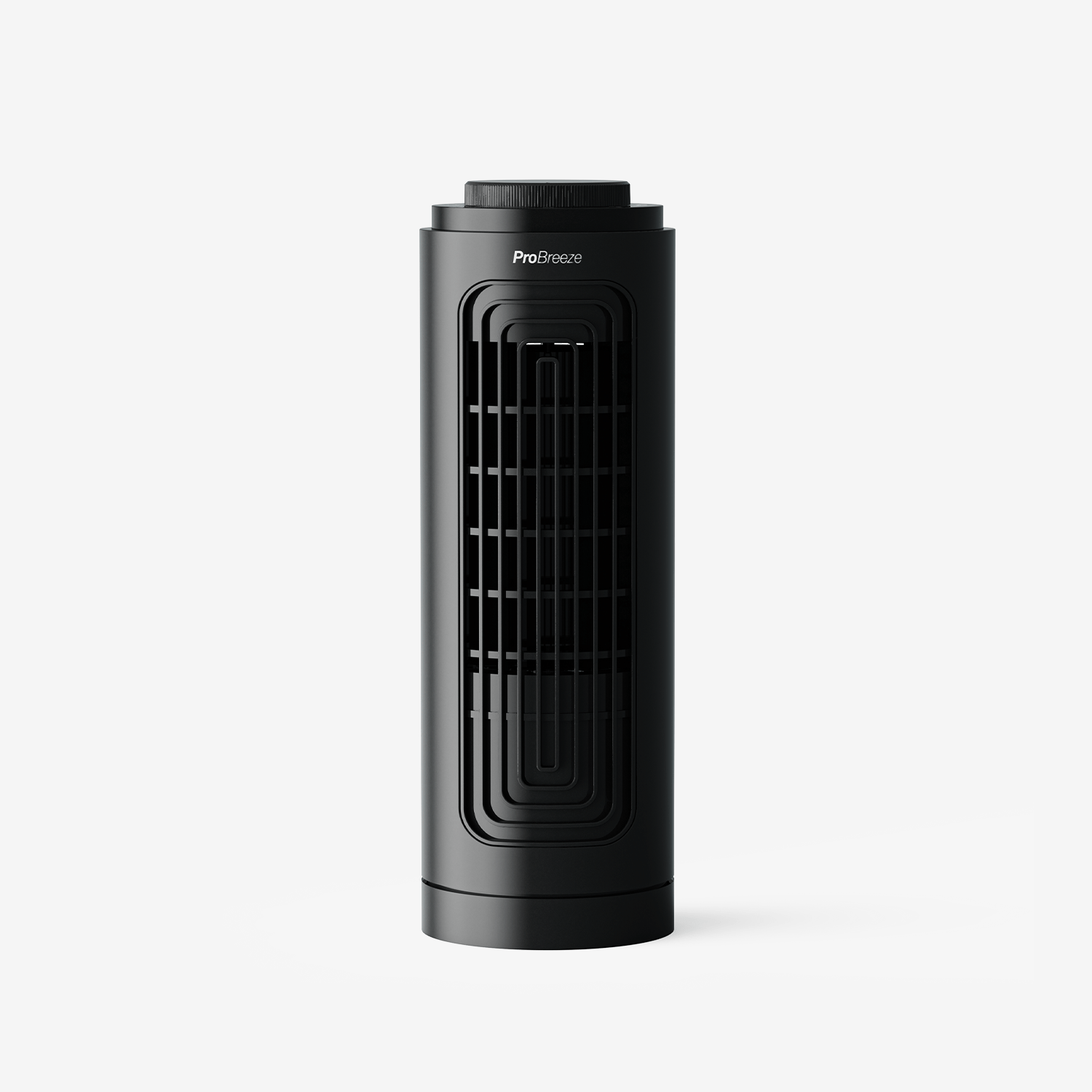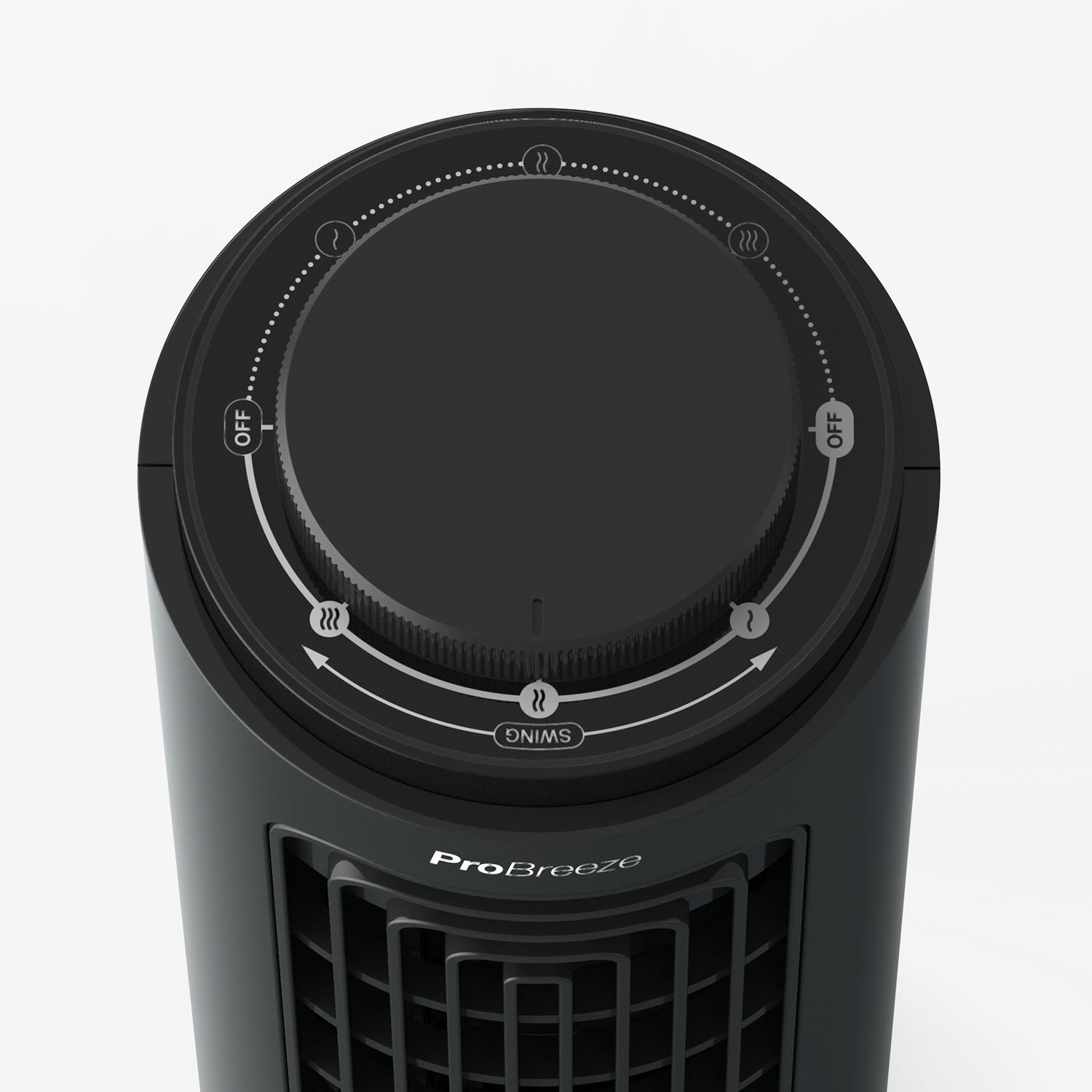 Desktop 3 Speed Mini Tower Fan - Black
Perfect for any work set-up, the Desktop 3 Speed Mini Tower Fan boasts 70° oscillation to blow cool air across your desk, living room or bedside table. Slim and compact, it utilises a quiet cooling technology to keep you with little to no noise.
This Desktop 3 Speed Mini Tower Fan has 3 fan speeds including low, medium and high for personalised cooling and is ideal for home, office garden and kitchen table use. The 70° wide angle oscillation helps air circulation and ventilation, all packed into a slim, 13-inch mini tower fan weighing 1.26kg for ultimate portability. This small but powerful unit uses quiet cooling technology, keeping you cool and refreshed through the night.

3 Cooling Fan Speeds:

 

This powerful mini desktop fan provides a compact tabletop cooling solution through low, medium, and high speeds.
Quiet Cooling Technology:

 

Ensures non-disruptive noise levels so that you are kept cool and comfortable whilst you sleep.
Slim Portable Design:

 

Standing at 32.5cm and weighing just 1.26kg, this compact fan is extremely portable and easy to store.
Automatic Oscillation:

 

Oscillating across a wide 70° space, this fan circulates a smoother and more refreshing breeze across your home or office.
Simple Controls:

 

Featuring an easy-to-use control dial, you can effortlessly adjust the cool air speed and oscillation.
Dimensions

110 x 110 x 325mm

Energy Consumption

0.1 kW.h

Maximum Room size

Small

Noise Level

52 dBA

Oscillation

70°

Power Cord Length

150 cm

Power Voltage

220-240V

Timer

No

Weight

1.26kg

Wind Velocity

2.6 m/s

Fan Speed Settings

3

Speed Settings

3

Remote Control

No

Touch Panel

No
Free Standard Delivery
All orders placed within Europe come with free Standard delivery. The delivery time will vary depending on the shipping location.
Please allow the following number of working days for your order to arrive.
Germany: 1-3 days
Belgium, France, Austria, The Netherlands, Spain, Italy, Poland: 3-5 days
Austria: 5-7 days
Portugal, Sweden, Czech Republic: 7-10 days
Returns
Orders can be returned within 30 days of the original purchase date, provided the order is unused and unopened. Please follow the steps here to return your order.
If you're concerned that your product is faulty, please contact our Customer Care Team here.
Dimensions

110 x 110 x 325mm

Weight

1.26kg

Noise level

52 dBA

Power voltage

220-240V

Wind velocity

2.6 m/s

Oscillation

70°

Power cord length

150 cm

Speed Settings

3

Touch Panel

No

Remote Control

No

Fan speed settings

3

Maximum room size

Small
Dimensions

220 x 200 x 320mm

Weight

0.65g

Noise level

42 dBA

Power voltage

220-240V

Wind velocity

2.32 m/s

Power cord length

155 cm

Speed Settings

2

Touch Panel

No

Remote Control

No

Fan speed settings

2

Maximum room size

Small
Dimensions

340 x 307 x 220mm

Weight

3.5kg

Noise level

29-54 dBA

Power voltage

220-240V

Wind velocity

1.18 m/s - 6.84 m/s

Oscillation

Horizontal: 80° - Vertical: 90°

Remote control battery type

C2025 x 1 (inc)

Power cord length

150 cm

Speed Settings

9

Touch Panel

No

Remote Control

Yes

Fan speed settings

16 Speeds / 4 Modes

Maximum room size

Medium
Dimensions

110 x 110 x 325mm

Weight

1.26kg

Noise level

52 dBA

Power voltage

220-240V

Wind velocity

2.6 m/s

Oscillation

70°

Power cord length

150 cm

Speed Settings

3

Touch Panel

No

Remote Control

No

Fan speed settings

3

Maximum room size

Small
Dimensions

220 x 200 x 320mm

Weight

0.65g

Noise level

42 dBA

Power voltage

220-240V

Wind velocity

2.32 m/s

Power cord length

155 cm

Speed Settings

2

Touch Panel

No

Remote Control

No

Fan speed settings

2

Maximum room size

Small
Dimensions

340 x 307 x 220mm

Weight

3.5kg

Noise level

29-54 dBA

Power voltage

220-240V

Wind velocity

1.18 m/s - 6.84 m/s

Oscillation

Horizontal: 80° - Vertical: 90°

Remote control battery type

C2025 x 1 (inc)

Power cord length

150 cm

Speed Settings

9

Touch Panel

No

Remote Control

Yes

Fan speed settings

16 Speeds / 4 Modes

Maximum room size

Medium