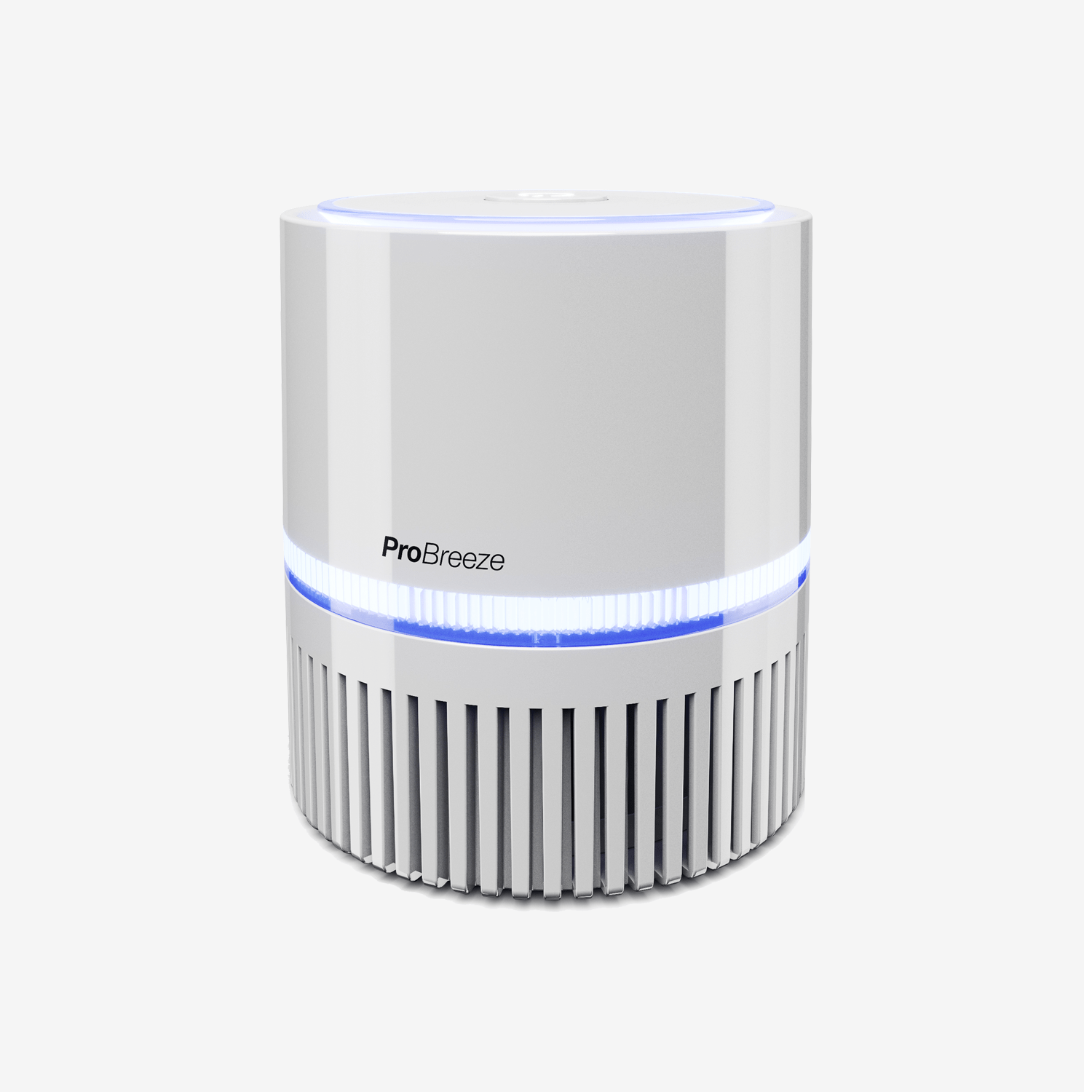 3-in-1 Mini Air Purifier with True HEPA Filter & Negative Ioniser
Improve the air quality around you with this 3-in-1 Mini Air Purifier. The compact unit uses a multi-layered filter to capture up to 99.7% of particles, making it perfect for use on your desk or bedside table.
This 3-in-1 Mini Air Purifier is specifically designed to create an area of clean filtered air around you, making it ideal for use at your office desk, on your bedside table or even in your child's nursery. Utilising a multi-layered HEPA filter to capture up to 99.97% of particles and a negative ion generator to tackle problem odours. Do not let its size fail you; this 3-in-1 air purifier is an incredibly versatile and powerful mini air purifier and has both a USB and mains adaptor.
3-in-1 Air Purification:

 

Captures up to 99.97% of airborne particles, dust, pollen, smoke, odours mould and pet dander with a Pre-Filter, True HEPA Filter.
Negative Ion Generator:

 

A built-in negative ion generator produces powerful negative ions that bind to and neutralise airborne pollutants for a cleaner environment.
Personal Air Purifier:

 

Powered by the included USB or Mains adaptor this desktop air purifier can create a halo of fresh air around you at work, or while you sleep.
LED Night Light:

 

This Mini Air Purifier features a LED night light, creating a relaxing environment. Perfect for children and babies' bedrooms, ensuring a peaceful, undisturbed sleep throughout the night.
Multiple Uses:Perfect for pet owners, smokers, children, babies or anybody looking to improve air quality, remove unwanted smells and prevent harmful pollutants in their home or working space.
Air Output Cadar

11.9 m³/h

Carbon Filter

No

Cold Catalyst Filter

No

Dimensions

125 x 125 x 135mm

Energy Consumption

0.003 kW·h

Filter

Yes

Hepa Filter

Yes

Maximum Room size

Personal space

Negative Ion Generator

Yes

Noise Level

40 dBA

Power Cord Length

180 cm

Power Voltage

220-240V

Timer

No

Weight

0.48g

Filter Life

2000 hrs
Free Standard Delivery
All orders placed within Europe come with free Standard delivery. The delivery time will vary depending on the shipping location.
Please allow the following number of working days for your order to arrive.
Germany: 1-3 days
Belgium, France, Austria, The Netherlands, Spain, Italy, Poland: 3-5 days
Austria: 5-7 days
Portugal, Sweden, Czech Republic: 7-10 days
Returns
Orders can be returned within 30 days of the original purchase date, provided the order is unused and unopened. Please follow the steps here to return your order.
If you're concerned that your product is faulty, please contact our Customer Care Team here.
Dimensions

125 x 125 x 135mm

Weight

0.48g

Power Voltage

220-240V

Air Output Cadar

11.9 m³/h

Hepa Filter

Yes

Carbon Filter

No

Cold Catalyst Filter

No

Negative Ion Generator

Yes

Air Output Cadar

11.9 m³/h

Filter Life

2000 hrs

Maximum room size

Personal space
Dimensions

170 x 170 x 216mm

Weight

1.03kg

Power Voltage

100-240V

Air Output Cadar

42 m³/h

Hepa Filter

Yes

Carbon Filter

Yes

Cold Catalyst Filter

No

Negative Ion Generator

Yes

Air Output Cadar

42 m³/h

Filter Life

680 hrs

Maximum room size

40 sq/ft
Dimensions

325 x 170 x 540mm

Weight

4.9kg

Power Voltage

220V

Air Output Cadar

218 m³/h

Hepa Filter

Yes

Carbon Filter

Yes

Cold Catalyst Filter

Yes

Negative Ion Generator

Yes

Air Output Cadar

218 m³/h

Filter Life

5000 hrs

Maximum room size

430 sq/ft
Dimensions

125 x 125 x 135mm

Weight

0.48g

Power Voltage

220-240V

Air Output Cadar

11.9 m³/h

Hepa Filter

Yes

Carbon Filter

No

Cold Catalyst Filter

No

Negative Ion Generator

Yes

Air Output Cadar

11.9 m³/h

Filter Life

2000 hrs

Maximum room size

Personal space
Dimensions

170 x 170 x 216mm

Weight

1.03kg

Power Voltage

100-240V

Air Output Cadar

42 m³/h

Hepa Filter

Yes

Carbon Filter

Yes

Cold Catalyst Filter

No

Negative Ion Generator

Yes

Air Output Cadar

42 m³/h

Filter Life

680 hrs

Maximum room size

40 sq/ft