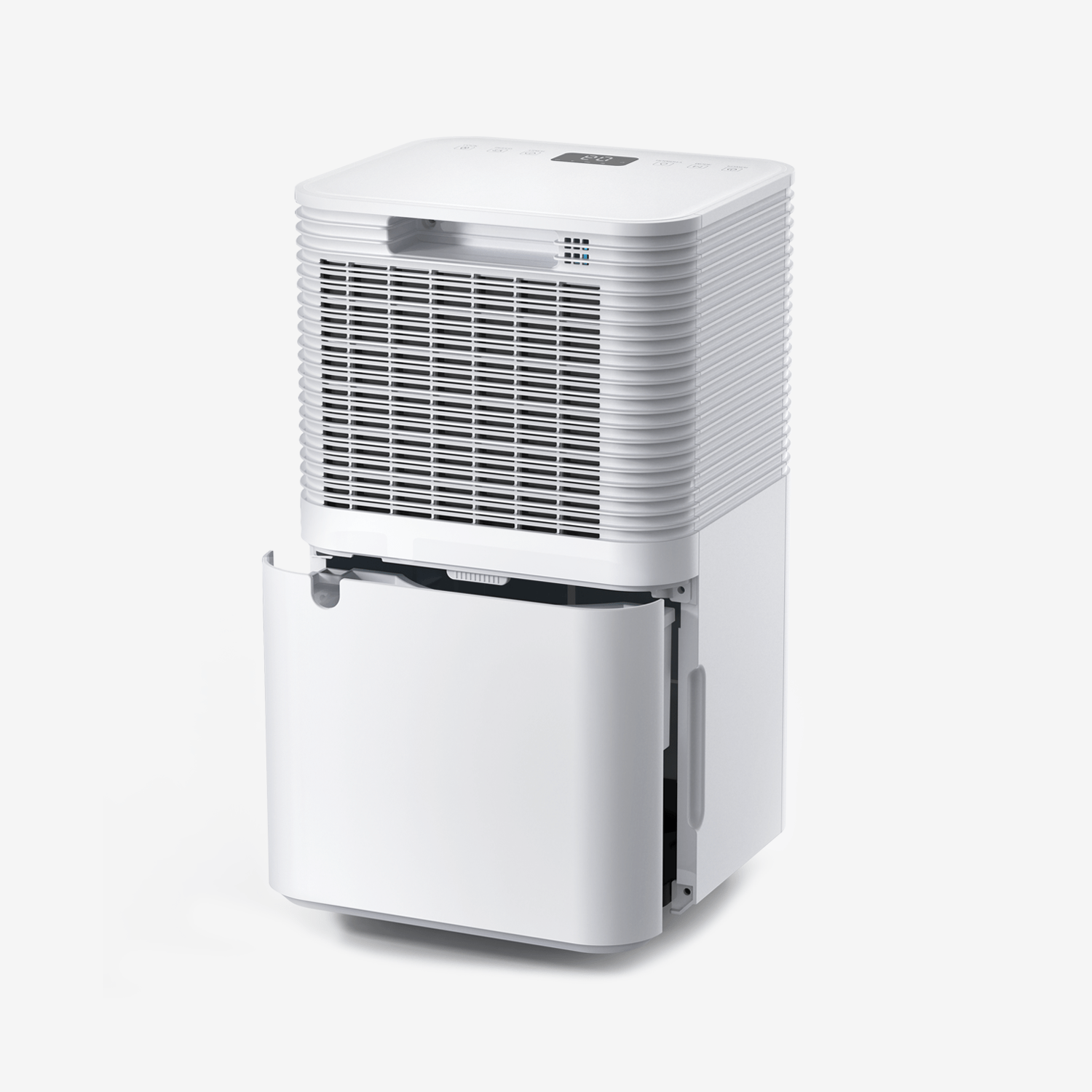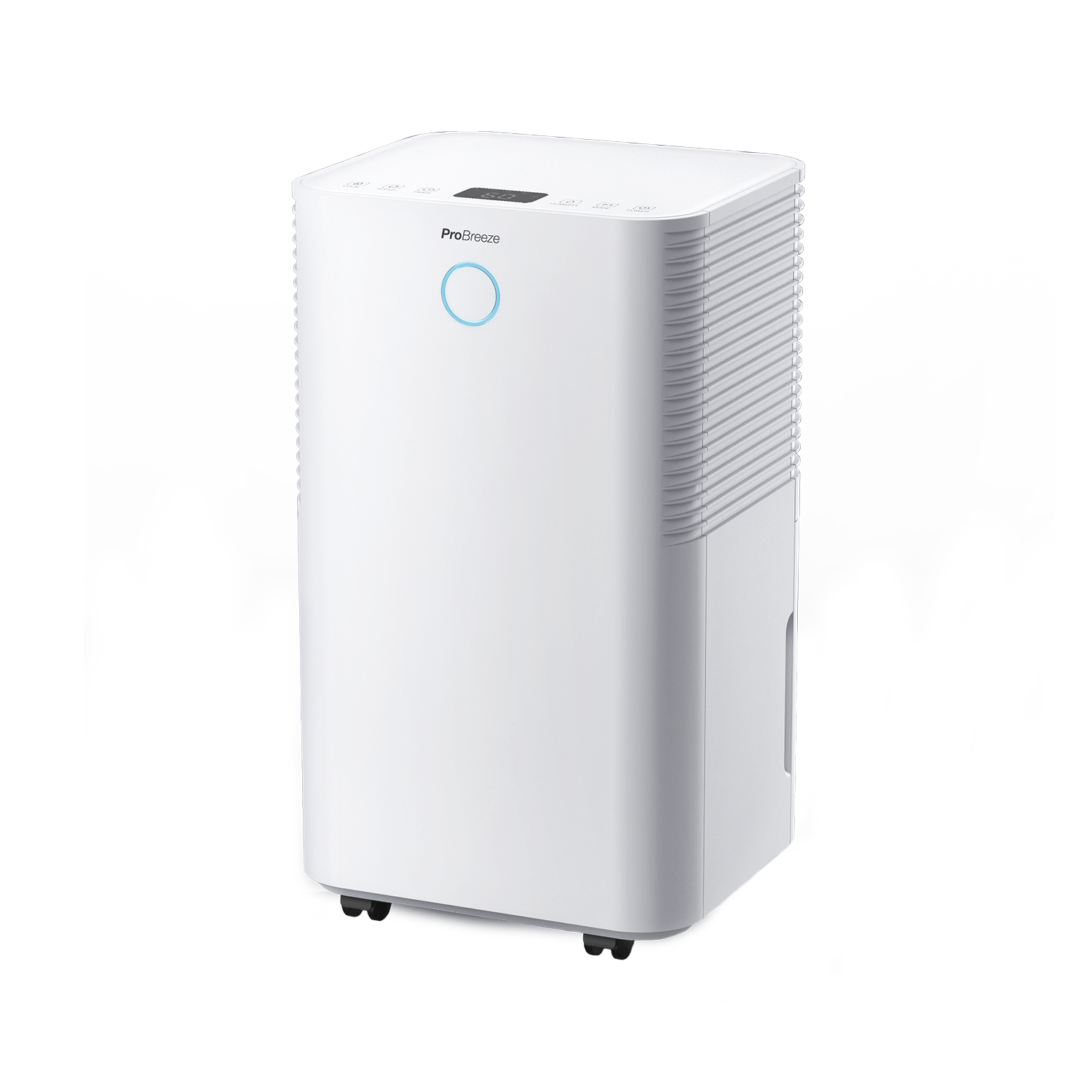 12L High Capacity Dehumidifier with Max Extraction
Get rid of common issues caused by humidity while reducing energy costs with this 12L Low Energy Dehumidifier. Featuring a large 2L water tank, digital LED display and 3 operating modes, it effectively combats humidity in medium to large spaces without breaking the bank.
This 12L Low Energy Dehumidifier collects up to 12 litres of moisture per day – perfectly suited for removing condensation and combatting mould in medium to large rooms and spaces. The high-performance dehumidifier uses an energy-efficient compressor to speed up the drying of clothes and offers 3 operation modes. A large 2L water tank ensures uninterrupted moisture collection throughout the day, and a drainage hose is included for continuous operation.
High Extraction:

 

Efficiently removes up to 12 litres of water per day with low energy consumption. Ideal for damp, mould, condensation, and moisture in homes, garages, and bathrooms suffering from damp and humidity.
Reduce Clothing Drying Time:

 

A great way to absorb moisture in the air when drying your clothes.
Energy Efficient:

 

Our energy-efficient dehumidifier has been designed to automatically shut off once it has reached your desired humidity level.
Automatic Humidity Sensor:

 

The dehumidifier automatically measures the ambient room humidity level and displays it on the digital LED display panel, allowing you to set your desired room humidity between 30-80%.
Digital LED Display and 24-Hour Timer:

 

Programme the dehumidifier to turn on or off at any time of the day or night using the 24-hour timer function. The easy-to-read screen allows you to control the 3 operation modes including auto, continuous, and sleep mode.
Large Water Tank:

 

Features a large 2-litre water tank and a hose for continuous drainage, allowing you to run the dehumidifier for long periods of time without emptying the tank.
Dimensions

255 x 220 x 445mm

Energy Consumption

0.2 kW·h

Filter

Plastic

Max Extraction

12L

Maximum Room size

160 sq ft

Noise Level

≤38 dBA

Power Cord Length

150 cm

Power Voltage

220-240V

Timer

24h

Type

Compressor

Water Tank Capacity

2.1L

Weight

10kg

Airflow Rate

100m3/h

Continuos Drainage Option

Yes

Led Display

Yes

Humidity Indicator

Yes

Working Temperature

5 - 35°C
Free Standard Delivery
All orders placed within Europe come with free Standard delivery. The delivery time will vary depending on the shipping location.
Please allow the following number of working days for your order to arrive.
Germany: 1-3 days
Belgium, France, Austria, The Netherlands, Spain, Italy, Poland: 3-5 days
Austria: 5-7 days
Portugal, Sweden, Czech Republic: 7-10 days
Returns
Orders can be returned within 30 days of the original purchase date, provided the order is unused and unopened. Please follow the steps here to return your order.
If you're concerned that your product is faulty, please contact our Customer Care Team here.
Dimensions

255 x 220 x 445mm

Weight

10kg

Type

Compressor

Water Tank Capacity

2.1L

Max Extraction

12L

Maximum Room Size

160 sq ft

Energy Consumption

0.2 kW·h

Noise Level

≤38 dBA

Continuous Drainage Option

Yes

Led Display

Yes

Humidity Indicator

Yes

Working Temperature

5 - 35°C

Airflow rate

100m3/h
Dimensions

217 X 296 X 437mm

Weight

9.5kg

Type

Compressor

Water Tank Capacity

1.8L

Max Extraction

12L

Maximum Room Size

162 sqft

Energy Consumption

0.24 kW·h

Noise Level

40 dBA

Continuous Drainage Option

Yes

Led Display

Yes

Humidity Indicator

Yes

Working Temperature

5 - 32°C

Airflow rate

80 m3/h
Dimensions

317 x 213 x 499mm

Weight

6.8kg

Type

Desiccant (Cold Weather)

Water Tank Capacity

3L

Max Extraction

10L

Maximum Room Size

400 sqft

Energy Consumption

0.68 kW·h

Noise Level

36(+3) dBA

Continuous Drainage Option

Yes

Led Display

Yes

Humidity Indicator

Yes

Working Temperature

1-40°C

Airflow rate

120 m3/h
Dimensions

255 x 220 x 445mm

Weight

10kg

Type

Compressor

Water Tank Capacity

2.1L

Max Extraction

12L

Maximum Room Size

160 sq ft

Energy Consumption

0.2 kW·h

Noise Level

≤38 dBA

Continuous Drainage Option

Yes

Led Display

Yes

Humidity Indicator

Yes

Working Temperature

5 - 35°C

Airflow rate

100m3/h
Dimensions

217 X 296 X 437mm

Weight

9.5kg

Type

Compressor

Water Tank Capacity

1.8L

Max Extraction

12L

Maximum Room Size

162 sqft

Energy Consumption

0.24 kW·h

Noise Level

40 dBA

Continuous Drainage Option

Yes

Led Display

Yes

Humidity Indicator

Yes

Working Temperature

5 - 32°C

Airflow rate

80 m3/h
Dimensions

317 x 213 x 499mm

Weight

6.8kg

Type

Desiccant (Cold Weather)

Water Tank Capacity

3L

Max Extraction

10L

Maximum Room Size

400 sqft

Energy Consumption

0.68 kW·h

Noise Level

36(+3) dBA

Continuous Drainage Option

Yes

Led Display

Yes

Humidity Indicator

Yes

Working Temperature

1-40°C

Airflow rate

120 m3/h