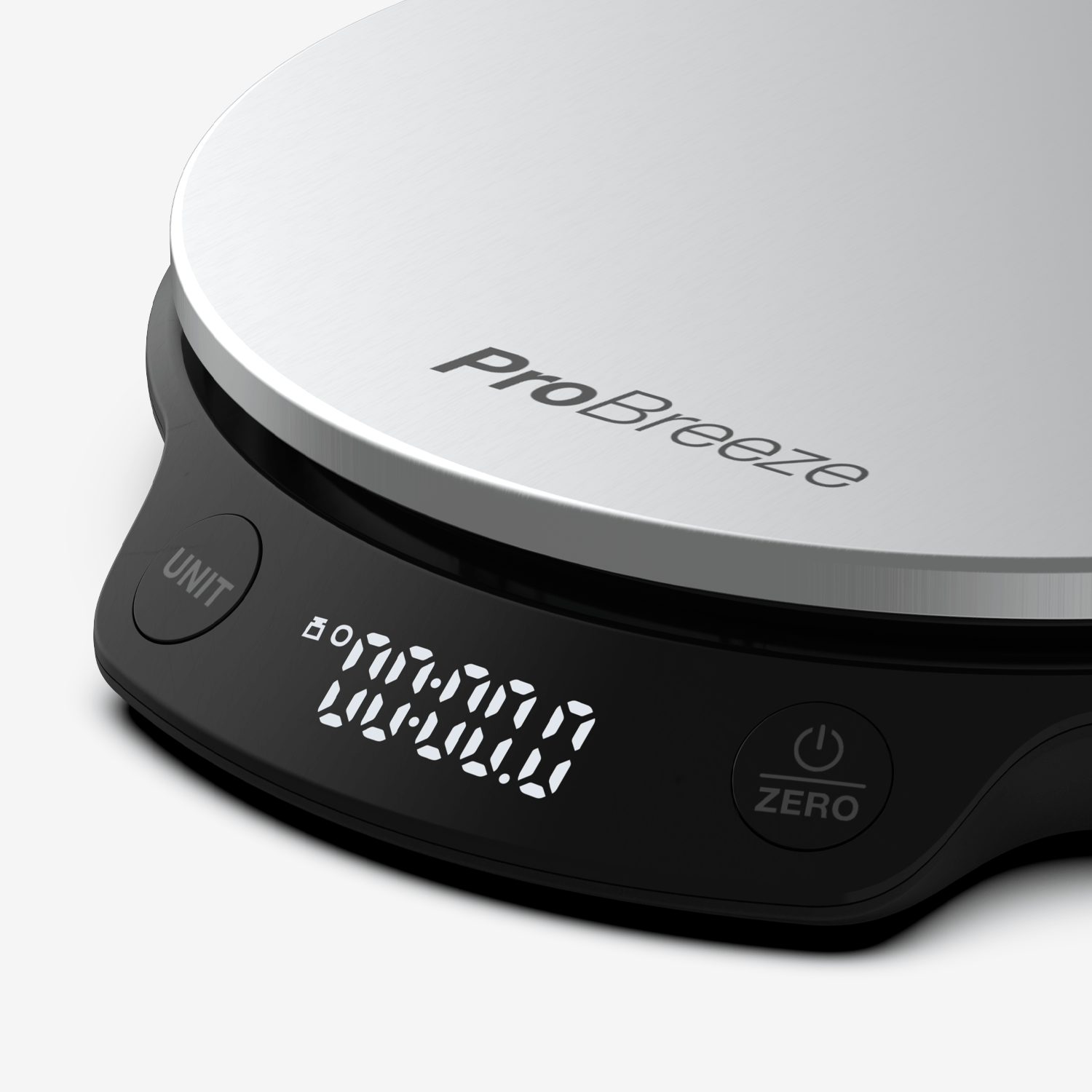 Digital Kitchen Scales - Stainless Steel (g/ml/fl oz/lb oz)
Make these Digital Kitchen Scales a part of your home cooking equipment and never ruin a recipe again. The sleek scales let you choose from various measurements on the LED screen and allow you to weigh everything from liquids to entire meals.
These Digital Kitchen Scales are your ultimate kitchen companion. Whether baking a cake or weighing out ingredients for a smoothie, they display highly accurate and reliable measurements on a bright, easy-to-read LED display. Choose between grams, millilitres, fl oz or lb oz when weighing almost anything: solid or liquid, a single ingredient, or an entire meal. With their sleek, stylish, and slimline design, our kitchen scales are easy to store away when not in use.

Accurate:

 

The Pro Breeze Food Scale lets you measure solids or liquids accurately in g, ml, lb oz or fl oz. Measure to a precision of 1g or 0.1oz of weight up to 5kg or 11 lbs.
Easy to Use:

 

Easy-to-understand LED Display and intuitive control panel, waste no time in getting started.
Multi-Functional:

 

Not just food weighing scales, they also have overload warning, auto-off function to preserve battery life, low battery alerts and a choice of three settings: weight, water or milk.
Tare Function:

 

The convenient TARE function allows you to measure multiple ingredients in one container easily. You can easily reset the weight to zero after each new ingredient to add and measure new ingredients.
Easy to Clean:

 

Made with a stainless-steel surface for easy cleaning and maintenance.
Portable Design:

 

The stylish, slimline design of our digital food scales makes them portable and easy to store.
Auto Cut Off

Yes

Dimensions

180 x 165 x 310mm

Timer

No

Weight

0.38g

Led Display

Yes

Material

Stainless Steel, Plastic

Division

1g/ 0.1oz

Accuracy

±3g (10g-1kg) ; ±5g (1kg-3kg) ; ±7g (3kg-5kg)

Units Measured

g/ ml/ lb:oz or fl'oz

Object Setting

Weight/ milk/ water

Min Weight

5g

Max Weight

5kg / 11lb
Free Standard Delivery
All orders placed within Europe come with free Standard delivery. The delivery time will vary depending on the shipping location.
Please allow the following number of working days for your order to arrive.
Germany: 1-3 days
Belgium, France, Austria, The Netherlands, Spain, Italy, Poland: 3-5 days
Austria: 5-7 days
Portugal, Sweden, Czech Republic: 7-10 days
Returns
Orders can be returned within 30 days of the original purchase date, provided the order is unused and unopened. Please follow the steps here to return your order.
If you're concerned that your product is faulty, please contact our Customer Care Team here.