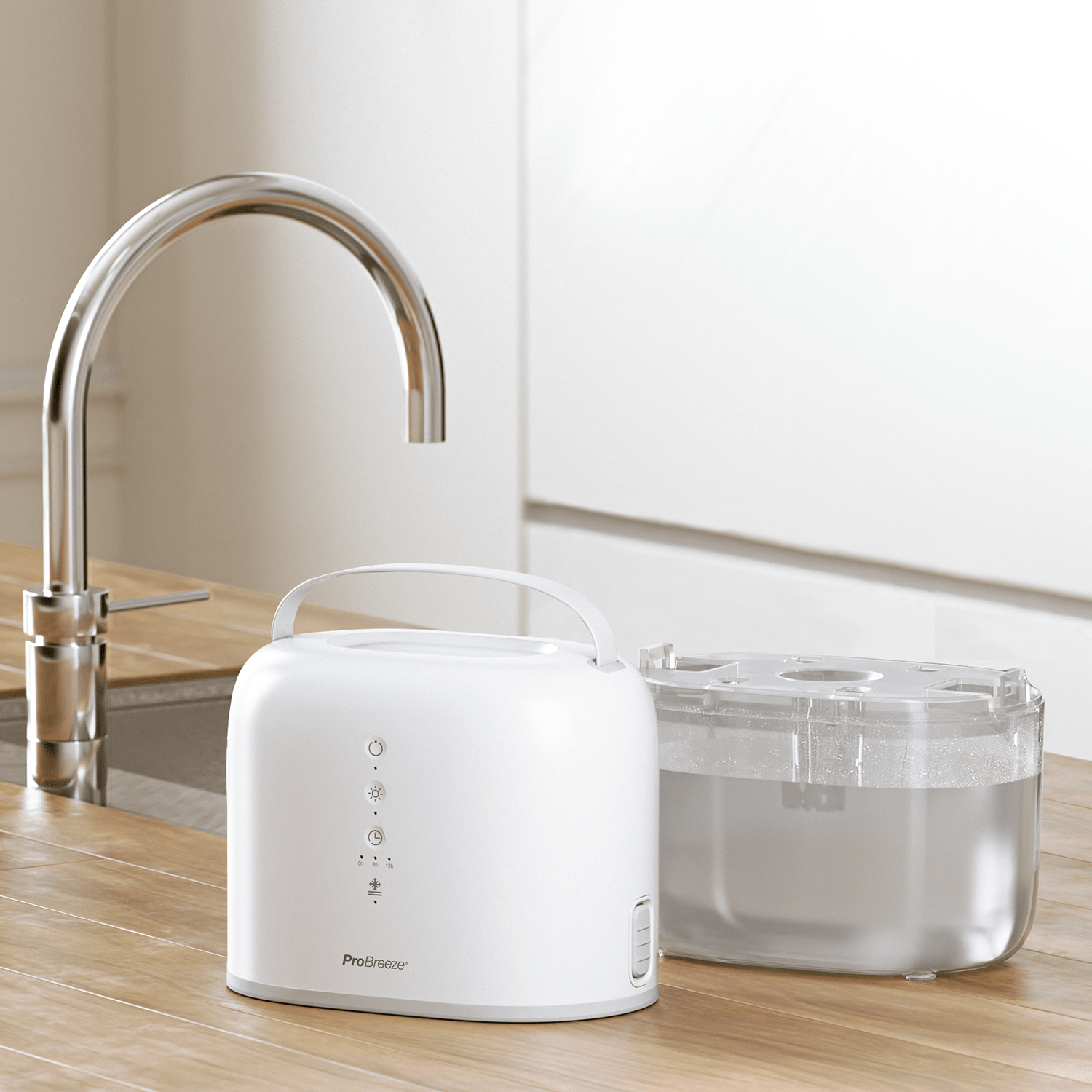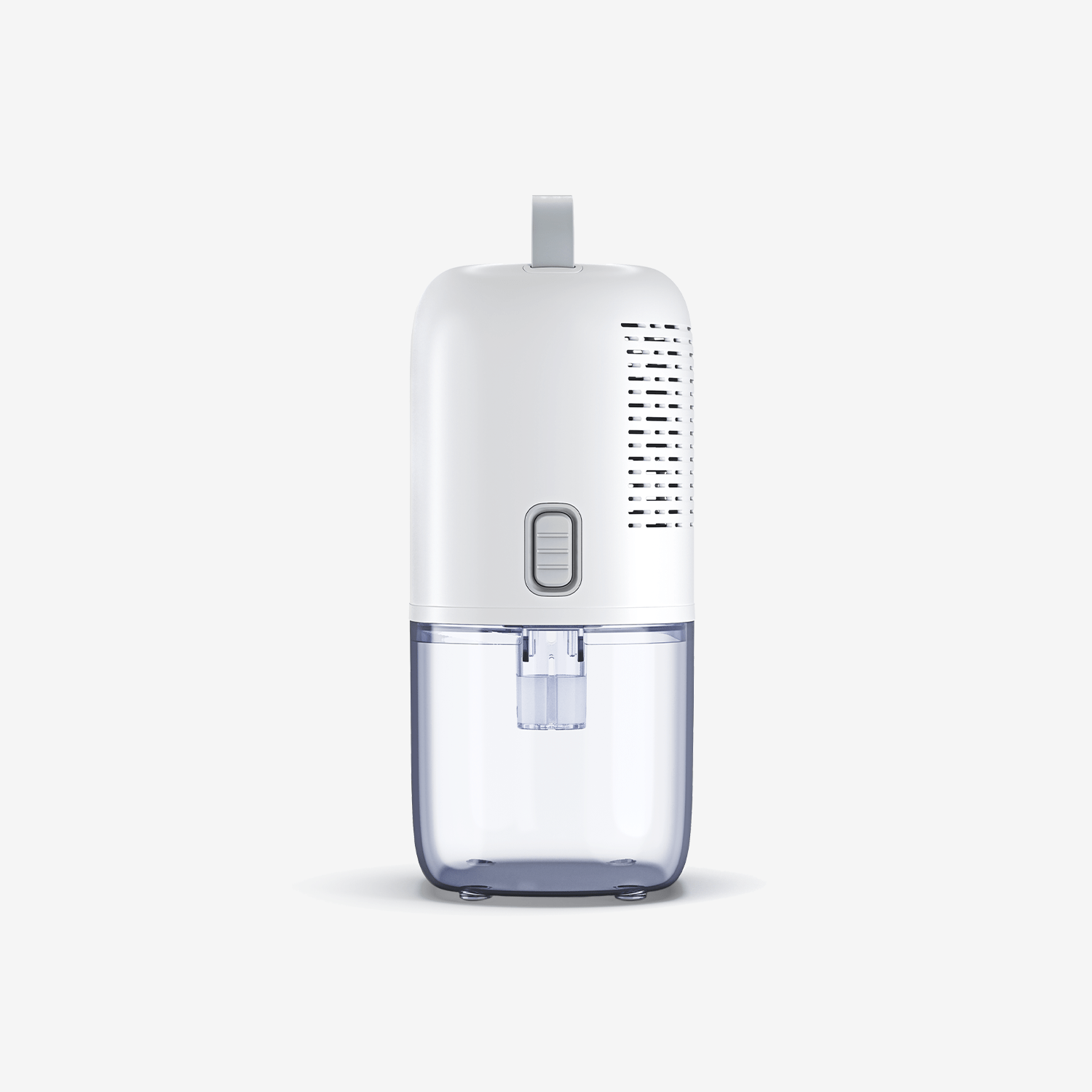 1700ml Max Extraction Dehumidifier
Take control of humidity in your interior with the 1700ml Max Extraction Dehumidifier. This small but powerful dehumidifier combats mould, window condensation and dampness and it can be transported from room to room to suit your needs.
The 1700ml Max Extraction Dehumidifier quickly and efficiently removes moisture from the interior including your bedroom, kitchen, caravan, or garage and prevents your spaces from damp, mould and window condensation. It features a 1700ml water tank, capable of removing up to 600ml of moisture per day which automatically shuts off when full, helping you to save on your energy bills. The advanced Peltier technology ensures quiet operation at night, while a programmable timer helps you set the dehumidifier to work around your schedule.
Removes up to 600ml /day:

 

Perfect for removing mild dampness, mould and moisture from your home.
Costs as little as 1p/hour to run:

 

Our dehumidifier has been designed to be energy-efficient with low power consumption.
Lightweight & Compact:

 

Ideal for small spaces such as bathrooms and wardrobes where traditional dehumidifiers can't reach.
Low Noise Level:

 

Sounding no louder than a whisper (35dB), this makes it perfect for running overnight without noise discomfort.
Large 1.7L Water Tank:

 

Despite its compact size, the water tank is large enough for several days of operation without having to empty it often.
Eco-friendly:

 

Thermo-electric Peltier technology (compressor-free) delivers powerful yet whisper-quiet eco-friendly operation to help eliminate dampness and condensation in your home.
6/8/12H Timer & Auto Shut-Off:

 

Easily set it to run continuously or for a set amount of time using the 6/8/12 hour timer.
Dimensions

191 x 123 x 275mm

Energy Consumption

0.04 kW·h

Filter

No

Max Extraction

600ml

Noise Level

35 dBA

Power Cord Length

150 cm

Power Voltage

DC 12V, Adaptor: 100-240V

Timer

6/8/12 hrs

Type

Peltier

Water Tank Capacity

1700 ml

Weight

1.25kg

Continuos Drainage Option

No

Led Display

No

Humidity Indicator

No

Working Temperature

20-30°C
Free Standard Delivery
All orders placed within Europe come with free Standard delivery. The delivery time will vary depending on the shipping location.
Please allow the following number of working days for your order to arrive.
Germany: 1-3 days
Belgium, France, Austria, The Netherlands, Spain, Italy, Poland: 3-5 days
Austria: 5-7 days
Portugal, Sweden, Czech Republic: 7-10 days
Returns
Orders can be returned within 30 days of the original purchase date, provided the order is unused and unopened. Please follow the steps here to return your order.
If you're concerned that your product is faulty, please contact our Customer Care Team here.
Dimensions

191 x 123 x 275mm

Weight

1.25kg

Type

Peltier

Water Tank Capacity

1700 ml

Max Extraction

600ml

Energy Consumption

0.04 kW·h

Noise Level

35 dBA

Continuous Drainage Option

No

Led Display

No

Humidity Indicator

No

Working Temperature

20-30°C
Dimensions

150.x 150 x 240mm

Weight

1.2kg

Type

Peltier

Water Tank Capacity

1000ml

Max Extraction

450ml

Energy Consumption

0.036 kW·h

Noise Level

37 dBA

Continuous Drainage Option

No

Led Display

No

Humidity Indicator

No

Working Temperature

10-50℃
Dimensions

220 x 160 x 300mm

Weight

1.85kg

Type

Peltier

Water Tank Capacity

1500ml

Max Extraction

500 ml

Energy Consumption

0.072 kW·h

Noise Level

40 dBA

Continuous Drainage Option

No

Led Display

No

Humidity Indicator

No

Working Temperature

15-35°C

Airflow rate

40 m3/h
Dimensions

223.x 158 x 308mm

Weight

2kg

Type

Peltier

Water Tank Capacity

1500ml

Max Extraction

500ml

Energy Consumption

0.04 kW·h

Noise Level

42 dBA

Continuous Drainage Option

No

Led Display

No

Humidity Indicator

No

Working Temperature

10-50°C

Airflow rate

42 m3/h